Liu Ningbo is a wedding planner at a wedding consultancy in Changsha city, capital of Hunan province.
She once worked in a bank, but then resigned and became a wedding planner in 2012. So far, she has already organized weddings for 160 couples.
Liu used to admire participants of singing competitions and dreams of turning one of her favorite online novels into a TV drama series.
Among the countless weddings she has organized, the best line she has ever heard was when asked why he wanted to marry the bride, the groom told the guests that, "I have to marry her because I have fallen in love with her."
This job can be emotionally fulfilling but can also bring difficulties. Many of the weddings are held on weekends, so her free time is different from her friends. With taking time out for her friends becoming impossible, she gradually lost touch with them. Another challenge is holding trouble-free weddings, and that can include anything from ensuring on-site sound systems work perfectly to keeping the children safe.
She said the job, which she calls a responsibility, has made her believe that love is real.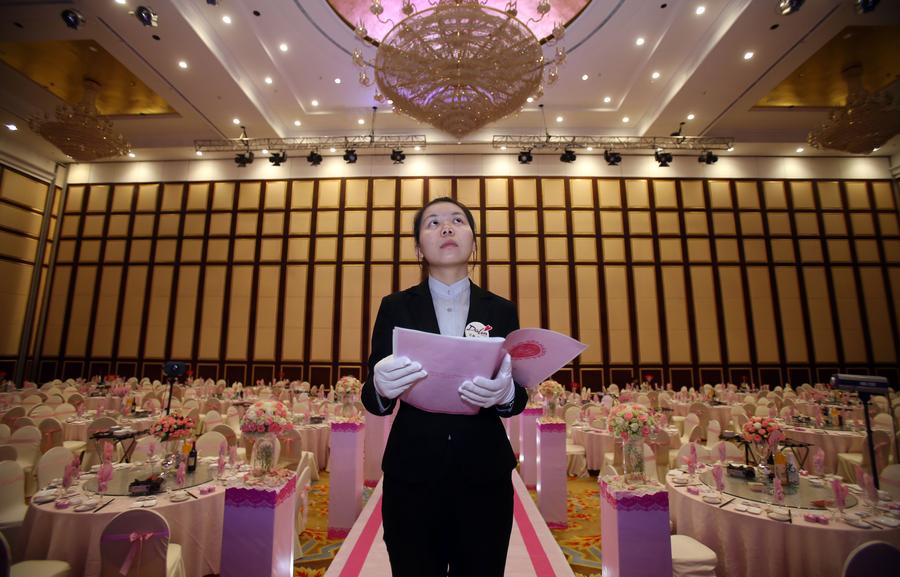 Wedding is set to start in two hours and Liu Ningbo goes through every detail to make sure that everything is ready on the morning of April 20. [Photo/IC]