China's real estate sector has entered an obvious adjustment period as more and more cities are witnessing price drops. Among 70 major cities, eight saw month-on-month price declines in the new-home market in April, double that for March, the National Bureau of Statistics said in a statement on May 18.
In addition to an increase in the government's subsidized housing and the oversupply in some smaller cities, banks' unwillingness to offer mortgages to home buyers is another major reason for the cool-down in the real estate sector, according to Huang Jinlao, vice-president of Huaxia Bank.
Developers are trying all out to sell properties, including showing photos of their sales offices at online forums to attract possible buyers. Let's review the nine most luxurious ones.
No 9 Jinyu Huafu Complex
Average price of the villa-style Jinyu Huafu Complex in the city of Linfen, North China's Shanxi province, was 6,150 yuan per square meter on April 1 2014, according to Tencent's qq.com. The properties at this complex are expected to be handed over to buyers in June 2015.
Linfen is a major city in the coal-rich Shanxi province. The province saw its GDP grow 5.5 percent in the first quarter of this year, the third slowest nationwide.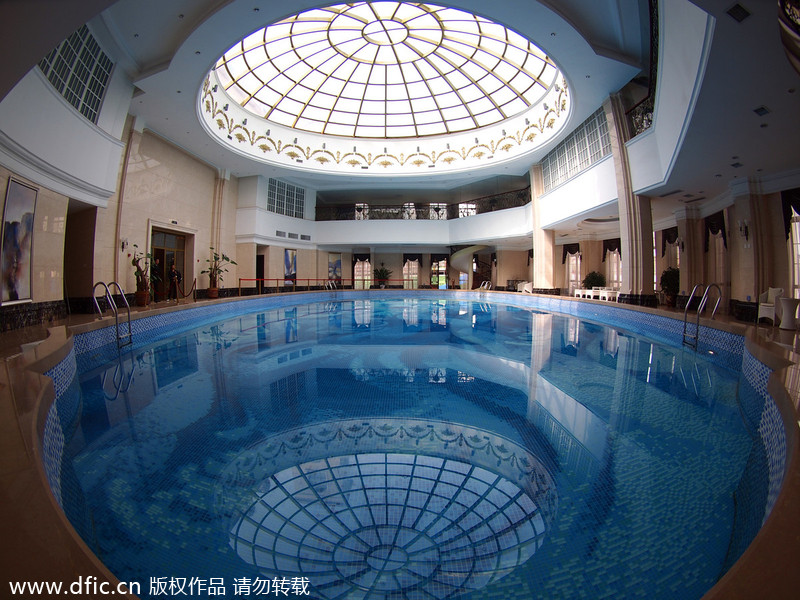 A swimming pool inside the sales office of the Jinyu Wangfu Complex in the city of Linfen, North China's Shanxi province, on April 26 2014. [Photo/IC]