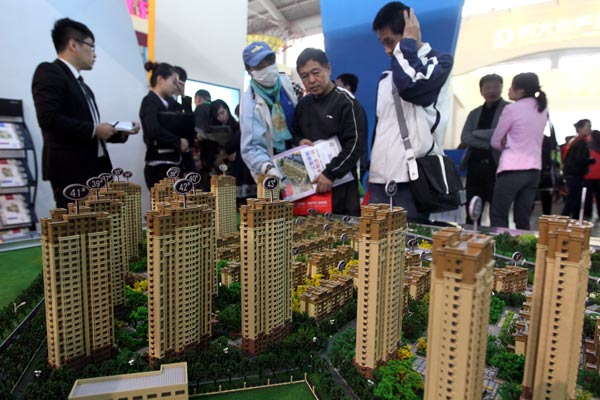 Real estate agents speak with potential homebuyers on Thursday at a property expo in Shenyang, Liaoning province. With property markets stalling or sliding in many cities, experts question whether most local governments can still reap fortunes from land sales, which are a financial lifeblood for them. [Photo / Provided to China Daily]
Weak housing market has troubling effect on local government financing
Compared with the first-quarter growth rate of the nation's fiscal revenue, local governments' land sale revenue growth was nothing short of spectacular. But that critical source of funds is threatened by weakening property sales.
Land sale revenue rose 40.3 percent year-on-year to 1.08 trillion yuan ($174 billion) during the first quarter, said Finance Minister Luo Jiwei.
By comparison, fiscal revenue only grew 9.3 percent nationwide to 3.5 trillion yuan - and that figure excludes land sales, which are now equivalent to 55.4 percent of the public fiscal revenue of local governments. Land sale revenue for all of 2013 grew 44.6 percent.
But the headline numbers obscure some warning signs.
Land sales are a crucial source of funds for China's local governments. In most localities, public fiscal revenue is spent on education, health services and the government itself, leaving little room for such activities as urban renovation, building highways and establishing industrial parks.
Land sales are the financial lifeblood for these developments, and land appropriated by local governments is frequently used as collateral for bank loans.
But with property markets stalling or sliding in many cities, experts question whether most local governments can still reap fortunes from land sales. If they can't, it's unclear if they can cover their massive debt payments and sustain government-driven investment.
Liu Shangxi, deputy head of the Fiscal Science Research Institute at the Ministry of Finance, said an important reason for the first-quarter surge in land sales was a low base of comparison.