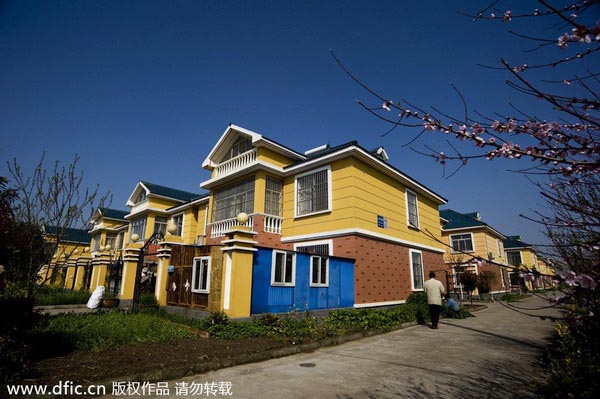 Newly built houses are pictured in suburban Hai'an city, Jiangsu province, March 30, 2014. China unveiled its first detailed national urbanization plan last month, which aims to allow 100 million migrant workers to achieve urban residence status (hukou) by 2020. Those newcomers will be eligible for subsidized housing and the other social benefits of city life, such as access to medical care and education. [Photo / dfic.cn]
Governments at all levels must find new strategies to assimilate 100 million migrant workers into a flourishing urban society, reports Li Yang
The central government unveiled its first detailed national urbanization plan last month, which aims to allow 100 million migrant workers to achieve urban residence status (hukou) by 2020. Those newcomers will be eligible for subsidized housing and the other social benefits of city life, such as access to medical care and education.
Unlike previous initiatives, this plan focuses more on the "how" than the "why", and it requires local governments to put public welfare ahead of economic growth.
Local governments will have to find new ways to generate revenue rather than relying on the usual method of acquiring land cheaply from farmers and selling it at high prices to real estate developers.
It's a reliable source of income for local governments as well as corrupt officials, but things will change if farmers get full ownership of their land.
Land reform, proposed during the Third Plenum of the Communist Party of China's 18th Central Committee last November, will aid that process if properly implemented.
Recognizing farmers' property ownership over their land is a practical method of narrowing the welfare gap between urban and rural hukou holders.
Under the land reform plan and the urbanization plan, the government will allow farmers to mortgage and rent their contracted land to qualified financial institutions and tenants, without changing the land's use, in order to improve the efficiency of land use, foster a modern agricultural sector and help turn farmers' property rights into tangible profits.
But land reform still largely exists on paper.
From 2000 to 2011, China's urban construction area increased 76.4 percent, and the urban population, including migrant workers, rose 50.5 percent. Driven by governments' thirst for revenue and growth, cities expanded beyond their real needs.