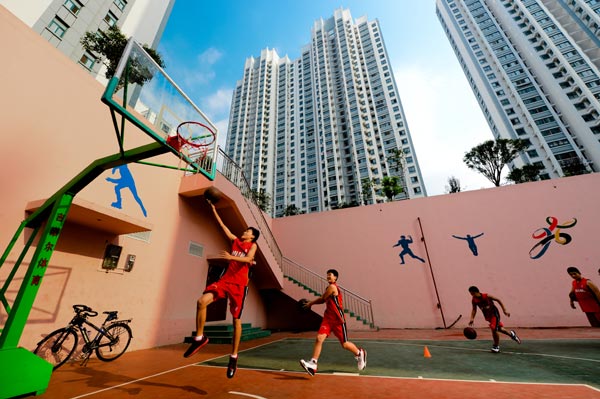 A basketball court in a renovated district of Zaozhuang, Shandong province. The central government aims to accelerate such projects, part of the nation's urbanization drive, with total investment expected to exceed 1 trillion yuan ($162 billion) this year. Guo Xulei / Xinhua
China's first urbanization plan demonstrates its ambition to achieve multiple goals through a massive economic and social program, analysts said.
These goals, as stated in the 30,000-character New-style Urbanization Plan (2014-20) released on Sunday, include boosting domestic demand, addressing rural and agricultural problems, facilitating industrial upgrading, promoting regional development and advancing social benefits for all.
The multiple goals are evident in the text of the plan, which not only discusses giving migrant workers full urban rights - a policy repeatedly pledged by the government - but also deals with a wide spectrum ranging from better city layouts, employment, regional development, public service systems, reductions in energy use and even the conservation of cultural heritage.
"It is a comprehensive plan across different government departments that deals with a full range of issues. What impressed me is it actually concentrates less on the economic aspects and more on social and environmental matters," said Jonathan Woetzel, co-chair of the Urban China Initiative and director of McKinsey & Co.
He said this showed the government attaches much more importance to the quality of urbanization and puts the urban inclusiveness at the center of the program.
"I don't think the government has a choice (in terms of advancing urbanization). Instead, its goal is to find ways to help migrant workers," he said, adding the specific number in the plan should be interpreted more as an "expectation" than a "target".