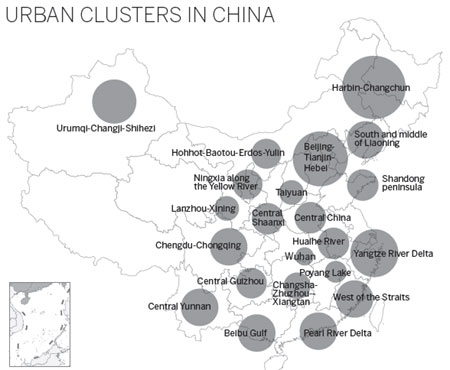 Feng Xiuxia / China Daily
Cities and towns should establish specific criteria for farmers to obtain a local hukou. The largest cities, such as Beijing and Shanghai, need to clarify the requirements for their residence permits, which aren't full hukou but an intermediate status intended to cushion the impact of the new residents.
An
alysts think this is a practical process, based on the current situation.
This intermediate status "gives migrant workers a reliable expectation. This is a clear signal for local governments as well, which should change their attitude toward their new citizens and prompt them to equalize their public services," said Li Tie, a rural work researcher at the National Development and Reform Commission, the top economic planner.
NDRC Vice-Minister Xu Xianping told a forum in late March: "Half of the 270 million migrant workers will earn urban hukou within five years, and the other half living in big cities will enjoy basic public services as a result of their applications for residence permits within seven years."
There are many views of the urbanization process.
"A market economy leads to urbanization, not the other way around," said Xu Xiaonian, an economist at the China Europe International Business School. "Recognizing farmers' property rights over their land and abolishing the hukou system can naturally promote market-driven urbanization."
Migrant workers are not necessarily financial burdens. Property rights over land make them potentially powerful consumers and create the necessary conditions for them to receive better education.
But the government shouldn't wait years to improve migrant workers' educational levels. The nation can't upgrade its industrial structure without improving quality of industrial workers.
At present, 70 percent of migrant workers only have a junior middle school education or less, and 70 percent of migrant workers haven't had formal vocational training.
According to the NDRC, the central government will increase subsidies for migrant workers' vocational training and encourage employers to do so as well.
Chen Yuyu, an economist at Peking University who has criticized Chinese governments' heedless investment, said: "Inputs into education for farmers and migrant workers will be the best investment the government can make."
Zhang Yu contributed to the story.