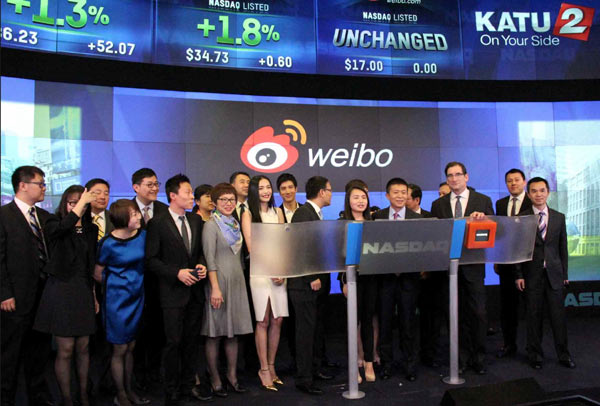 The shares of Weibo Corp gained strongly in their Nasdaq debut on Thursday. However, the IPO valued Weibo at about $3.3 billion, far below the initial estimate of about $8 billion. [Photo / Provided to China Daily]
New stock may signal declining US appetite for Chinese shares
The shares of Weibo Corp gained strongly in their Nasdaq debut on Thursday, but the cloud over United States-listed Chinese stocks hasn't totally lifted, said analysts.
Weibo shares closed 19 percent above their IPO price on Thursday, standing out among US-listed tech companies, whose stocks have been beaten down by Wall Street investors over the past several weeks.
Despite the seemingly strong performance, the Beijing-based company's opening price on the Nasdaq was $16.27, a 4.3 percent discount to the IPO price.
The social media company, which offers a micro-blogging service, is estimated to have raised up to $328.44 million by selling 16.8 million American depositary shares at $17 each. However, its initial plan was to sell about 20 million ADS at a target range of $17 to $19.
Ultimately, the IPO valued Weibo at about $3.3 billion, far below the initial estimate of about $8 billion.
The fact that Weibo had to cut its offering size highlighted increased concerns on Wall Street about the high-valuation Internet companies, whether they are US-based ones such as Twitter Inc and Facebook Inc or US-listed Chinese stocks.
At least seven other Chinese Internet companies are seeking capital in the US. They've filed applications to raise a total of $2.8 billion in New York this year, which would be the most since the fourth quarter of 2007, according to data complied by Bloomberg News. That doesn't include e-commerce conglomerate Alibaba Group Holding Ltd, whose highly anticipated IPO is estimated to be the biggest in the US in at least two years.
Hou Xiaotian, chief analyst with T. H. Capital LLC, an independent research and investment advisory firm, said that the US-listed tech companies have been high-fliers over the past two years and investors are adjusting their valuations of these companies.
"It is a challenging situation for any IPO," said Hou.