Mobike stays ahead in Chinese bike-sharing market, analysis says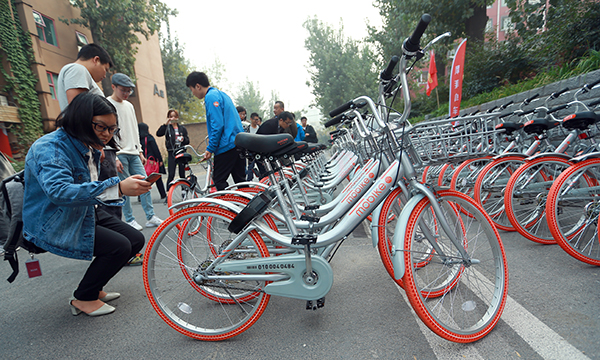 A reporter uses her cellphone to scan the QR code on a mobike on October 19, 2016 in Beijing. [Photo by Zou Hong/China Daily]
Chinese bike-sharing app Mobike has become a pacesetter in the race for control of the country's developing bike-on-demand sector, a data provider's analysis has found.
According to the latest statistics released by Trustdata, by the end of last year, China's bike-sharing monthly active users (MAU) had reached to 4.32 million. Mobike achieved 72.5 percent of the market share, accounting for more than 3.13 million MAU.
"As of last December, Mobike took the crown, followed by Ofo, Youon Bike and Black Bird Bike, to become the top four apps with highest MAU hit on the market," said the consulting company in a detailed report that elaborated on the country's mobile internet development in 2016.
Founded in 2014, Mobike is one of the fastest-growing bike-sharing companies in China. With services available in 13 cities, it is known for its distinctive orange-hued and GPS-equipped bikes.
The rapid growth is believed to heavily rely on the continuous capital investments.
Currently Mobike has raised $400 million in total, said Trustdata. In the latest round of financing, the company raised $215 million, which was led by Tencent Holdings.
The company also signed an exclusive strategic partnership with Foxconn Technology Group on Jan 23, in a move to double its annual bicycle production capacity to more than 10 million units.
Under the deal, Foxconn, the world's largest contract consumer electronics maker, will set up production lines for Mobike's bicycles, with an annual production capacity of 5.6 million units.
Wang Xiaofeng, CEO of the company, said the investment heat was in accordance with expectations as it is a China-original invention that has never been done before elsewhere in the world and the service is closely related to people's lives.