SAP takes on more cloud customers as it seeks smaller deals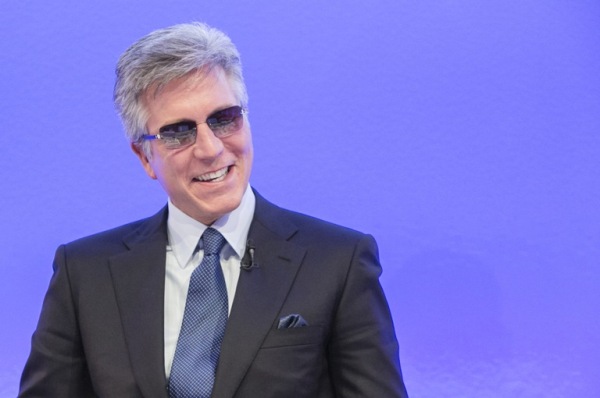 Bill McDermott, chief executive officer of SAP SE [Photo provided to China Daily]
SAP SE raised its targets for 2020 as customers bought its latest suite of applications at a faster pace, and Chief Executive Officer Bill McDermott, a fan of Donald Trump's The Art of the Deal, said he wouldn't "lay off the accelerator" on acquisitions, engineering investment or a potential share buyback.
The updated outlook, on top of fourth-quarter sales that were in line with estimates, show how SAP, which supplies software for running factories, supply chains and financial accounts, is managing a transition from software installed on customers' computers to online cloud-computing tools.
SAP's on-site software license business is barely growing, but its overall growth is still outpacing that of competitors Oracle Corp and a key software division at IBM Corp. Now the company is looking to deploy more of its 3.7 billion euros ($4 billion) in cash to fuel more growth.
Shares of SAP closed at 84.10 euros ($90.52) on Wednesday in Frankfurt. SAP's new targets were "still too conservative" given the company's strong performance, said Thomas Becker, analyst at Commerzbank AG in a client note.
Deal focus
"You could consider the share buybacks but it's my least favorite thing," McDermott said in an interview at SAP's Walldorf, Germany headquarters. "We don't need that story. We will look at tuckins, not mega-deals", and acquisitions up to about$1 billion, he said.
SAP could buy software companies whose capabilities cut across industries, or in specific areas like networking factories and industrial equipment, the CEO said.
McDermott is moving SAP's tens of thousands of businesses that run its older software onto a new set of applications called S/4 Hana.SAP said it has 5,400 businesses running the new suite, up from 4,100 at the end of October.
The company, like its rival Oracle, is also giving users more options to run key software in the cloud. Early next month, the company plans to announce new software called "S/4 Hana Cloud Edition" that tailors its flagship suite for the upper end of mid-sized companies with about 1,500 employees, McDermott said.
SAP's last major deal was the $7.4 billion acquisition of software company Concur Technologies Inc in September 2015.
New targets
The German business software maker converted more customers to recurring cloud computing contracts and increased its goal for 2020 sales to between 28 billion euros and 29 billion euros, up from 26 billion euros to 28 billion euros, to reflect growth in a cloud business that sells online software to corporations.
It also lifted the lower end of its goal for adjusted operating profit to 8.5 billion euros to 9 billion euros, versus an earlier target of 8 billion euros to 9 billion euros.
SAP's fourth-quarter sales were 6.7 billion euros, compared with the 6.68 billion euros average estimate of analysts surveyed by Bloomberg. Non-IFRS operating profit for Q4was 2.37 billion euros, compared with the 2.38 billion average estimate, while software license revenue for Q4 was 2.2 billion euros, compared with a 2.15 billion euro consensus estimate gathered by Barclays.
Cloud subscription and support revenue was 827 million euros, compared with an 828 million euro consensus estimate.
SAP reported its so-called backlog of cloud-computing software that was contracted but not yet recognized as revenue climbed 47 percent year-on-year in the fourth quarter to reach 5.4 billion euros at year-end.
It's "remarkable again the strong cloud growth", said Harald Schnitzer, an analyst at DZ Bank AG. "SAP's growth rate exceeds again its competitors. Furthermore software licenses remained at a solid ground."
Trump administration
McDermott said in the interview SAP is having "communications" with the administration of US President Donald Trump and that he is eager to continue supplying technology to the government that can modernize the nation's healthcare system. Tech leaders including Oracle co-CEO Safra Catz and Microsoft Corp CEO Satya Nadella had met with Trump to discuss policy.
"We don't have to sit in a conference room to be relevant," McDermott said. "I was a big fan of The Art of the Deal and I have met him in the past."
Sales guidance
Sales for 2016 were just over 22 billion euros, matching estimates. In 2017, SAP expects cloud and software revenues to climb by 6 percent to 8 percent at constant currencies.
SAP estimates 2017 sales will come in between 23.2 billion euros and 23.6 billion euros while operating profit should be 6.8 billion euros to 7 billion euros.
Analysts surveyed by Bloomberg had estimated 23.6 billion euros in sales for 2017 and 7.19 billion euros in profit. A year ago, SAP forecast sales of 23 billion euros to 23.5 billion euros in 2017, and operating profit adjusted for some items of 6.7 billion euros to 7 billion euros.
Bloomberg