Smartphone battery problems sap customer loyalty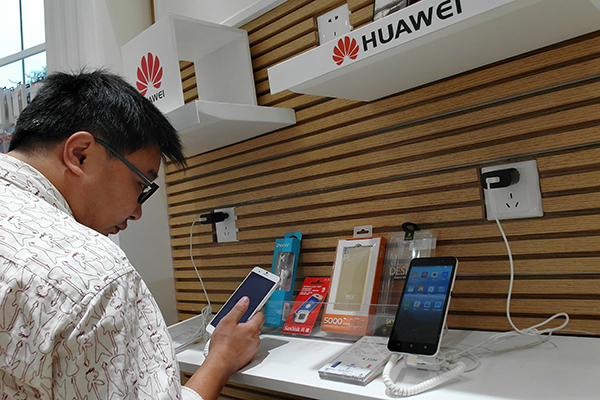 A consumer chooses from Huawei smartphones in Yichang, Hubei province. The Shenzhen-based Huawei Technologies Co Ltd is the world's third biggest handset maker. [Photo/China Daily]
I would never have imagined that my trust in my favorite brand would collapse one day, until a defective smartphone battery finally shattered my perfect impression of it a couple of weeks ago.
It all started about two months ago, when I found out that after one year of use, my phone easily ran out of juice. The situation was strange to me, a very restrained smartphone user.
In spite of this, when I took my phone-charged up to 100 percent to the office in the morning-it could barely stay on by the time I left work.
I even envied my mom's Huawei, which only needs to recharge every two days, not to say its price which was less than half of that of my phone.
When I complained about the worsening condition of the battery at lunchtime, a colleague who bought the same model at around the same time said: "It is marvelous that you can even have your phone still on when you return home. My phone is always on charge whenever I am at home or in the office."
The situation became even worse as the winter came. One day in early November, a call of only a few seconds removed all the 28 percent of power left in my phone. Following an abrupt shutdown, the phone couldn't be turned on until nearly four hours later.
When I started to consider changing to a new brand, I was told that the brand had introduced a free replacement program on Nov 20 that aimed to solve the unexpected shutdown issue.
Albeit with the replacement program, the tech giant insisted "this is not a safety issue and only affects devices within a limited serial number range".
The condescending tone reminded me of the South Korean company Samsung, which once insisted its latest Galaxy Note 7 was safe even after reports about faulty batteries were posted online by Chinese users.
Back to the problem of my phone battery. Findings from Shanghai's local consumer rights protection watchdog showed that complaints about the brand filed in October and November increased nearly six-fold year-on-year, with the majority pointing to its abrupt shutdown.
Even for consumers eligible for a free battery replacement, they normally needed to wait about one week after making a reservation, not to mention the "mission impossible" of reserving a slot for a battery replacement online.
The problems related with defective foreign smartphones could bode well for domestic phone makers, which are winning more and more clients from home and abroad with their stable performance and high cost efficiency.
Since the first explosion occurred in August, Samsung's brand market share was overtaken by Huawei in the third quarter, according to Tencent Big Data. Among Note 7 users who changed phones, more than half of them no longer chose a Samsung.
Similarly, my brand's battery problem might dissuade Chinese consumers from only buying foreign brands, and shift their attention to domestic manufacturers.
According to International Data Corporation, domestic brands Huawei, OPPO and vivo continued their expansion in the domestic smartphone market by winning a 47 percent share by the second quarter of 2016, up from 43 percent a year ago.
The latest report from China Mobile, the world's largest mobile operator, showed in its 2016 quality analysis of 19 mobile brands sold in China, Huawei led other phones in nearly half of all 42 indexes. Specifically, among phones priced more than 3,000 yuan ($435), Huawei outperformed Apple and Samsung in terms of basic communication, multimedia capabilities, system usability and user ratings.
After four days of communication and negotiation, I finally had my phone battery replaced.
Gone with the replaced battery was my unconditional trust towards this brand's products. Apart from worrying about the stability of the new battery, one of my new habits is that I have started to pay a lot more attention to new releases from Huawei.