Creating a household name on sweet note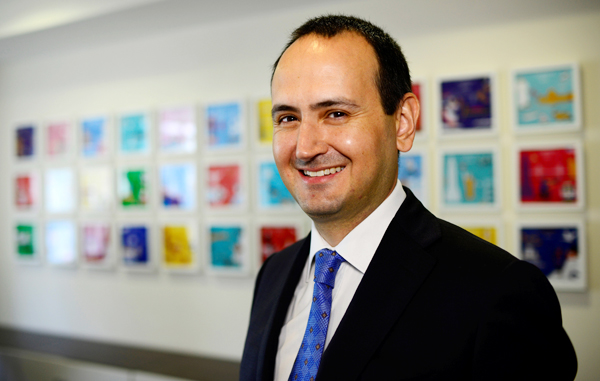 Cem Karakas, CEO of Pladis Group, smiles as he poses for a portrait at his company's headquarters in London. [Photo / Agencies]
Demand driven by China is key driver for future growth, Godiva chocolates owner chief says
Cem Karakas may be running the world's newest snack conglomerate, Pladis Group-established less than one year ago last April-but his ambitions to grow the company's market share in China are as big and mature as any of the veteran players in the country.
"In five years, whenever you ask a Chinese to name a chocolate brand, it will be Godiva. And we will achieve it," Karakas said. The Belgian chocolatier is by far the most recognized brand in the new group's product portfolio in the mainland.
In 2016, Yildiz Holding, the biggest food company in Central & Eastern Europe, the Middle East and Africa, brought together its core biscuit, chocolate, and confectionery businesses. These included Godiva Chocolatier, United Biscuits, Ulker and DeMet's Candy Company and the move formed a new global company, Pladis.
The company is named after the Pleiades constellation, a group of seven stars visible from anywhere on Earth.
With 36 factories in 13 countries, 26,000 employees and operations in 120 countries, Pladis annually generates over $5 billion in revenue.
Recently, Karakas spoke to China Daily about his vision and in particular, the strategies of chocolate brand Godiva in China. The following are edited excerpts of the interview:
How do you align your business strategy with the Chinese market, where the snack industry is already crowded with multinational and domestic brands?
Pladis is a very young enterprise, just established back in June, 2016. Having said that, the companies and brands that comprise Pladis are very old. The oldest brand we have dates back to 1806.
Overall, we are talking about 350 years of heritage, which differentiates us from other global snack players.
The Chinese market is very important for us. About 50 percent of our revenue comes from England, the Middle East and Turkey. The rest is primarily North Africa and Asia, Asia meaning China and Japan.
The Asian region has been our fastest-growing segment, particularly Japan, which has grown by 100 percent annually over the past five years. While we have been exporting to China for quite some time, our actual strategic entry there happened very recently, in 2010. We started with 20 employees in China, and right now we have in excess of 1,000 employees and in 2016 had about $85 million in revenue compared with almost nothing in 2010.
China will definitely exceed Japan in terms of market size around 2020, becoming a $300-million-or-so business. Godiva is the largest chocolate producer in Japan and its brand awareness is 99 percent there, compared to 12 percent of the second player.
While Godiva entered China only six years ago, it is on top of the minds of about 23 percent (of consumers), which is very very high for a young brand.
What are your expectations for the year of 2017 and profits in China?
In 2017, we are expecting to have over 2,000 employees in China and achieve $140 million in revenue.
Currently we are in 23 cities and we are going to expand our presence to 32 cities. But e-commerce is very, very advanced in China.
Actually, I think it is what makes the Chinese market so vibrant. About 24 percent of our sales are generated from e-commerce. With e-commerce, we are reaching more than 300 cities in China, which is amazing.
Does that mean you will have more aggressive expansion plans?
Yes. As of 2016, we have 103 stores in China. Our growth trajectory will take it to 150 by this year and close to 300 by 2020.
For the Year of the Rooster, was there any special campaign for the Chinese market?
The Chinese market is a very exacting market. It's a very difficult and competitive market. Chinese consumers are so particular and demanding, which is very good for us, that we have to renew ourselves every year here.
That is what we, Godiva, are good at. If you look at the average Godiva product range, roughly 30 percent is changed every year. That is why we have these designs made primarily by local Chinese artists and that has really been a source of success for us for the past several years.
Every year, we add new pieces, or seasonal pieces, to cater to Chinese tastes and requirements. These are more a fashion product than a chocolate product.
At Godiva, we have one resident chef here that only looks after Chinese consumers.
Chinese consumers have more of an affinity to our darker chocolates, rather than milk chocolates.
We are having rooster-shaped chocolates made in tea flavors with different types of nuts, which will be sold exclusively in both the Chinese markets and at destinations that Chinese tourists frequent, like Paris or London.
To what extent do you think China will contribute to your ambitious growth targets?
We have been the fastest-growing player in our industry for the past several years and we intend to do the same for the next. We almost always grow by double digits, which is rare in our industry, which is growing at around four percent annually. And the reason for that is although half our sales come from the so-called developed markets, markets like China and North Africa are what helps us grow. We are expecting to grow north of 30 percent per annum (in China) for the next five years.
What do you see as the growth engine for China?
Urbanization and increased product awareness.
How about challenges?
We became the largest premium player in the market in six years and six years ago there were some other big players. In China, it's important to know that past success doesn't guarantee future success.
Now who do you see as your biggest competitor?
In the chocolate segment, I don't want to understate competition, but we are pretty advanced. So we don't particularly keep an eye on this or that competitor.
In the biscuit segment, we are still too small and the market is really crowded.
Do you think that the readjustment of the Chinese economy will pose a threat to your company?
I am in a very comfortable position from one perspective, which is that our industry isn't so much about economics as about demographics-population increase, urbanization and age profiles, which vary from country to country. As long as people eat, we sell.
So difficult times don't result in tights budget for snacks?
Consumers first cut their durable goods budget. If you look back, there is almost no statistical causal relationship between the snack market growth and economic growth.
You said specific age profiles have a role in chocolate sales. How do they play out China?
Interestingly, it's the younger consumers in China that are consuming Godiva. While in North America, those around 40 to 50 are the heavier consumers.
In China, it's the 30s bracket, which makes the country the youngest market for Godiva chocolate.
What are the opportunities and positive effects Pladis expect to see from the Belt and Road Initiative over the next few years?
The long term benefits we see include improved infrastructure, resulting in a faster and more efficient supply chain to ship products from Europe and Turkey, as well as a free trade pact and more cooperation and better mutual understanding created among countries.
How do you think people's growing awareness of eating healthy food will affect your business?
We have been producing the same recipes (for different snacks) for centuries. Back then, there wasn't such concern. But there are always other (health) concerns. Balanced diets are critical.
Every once in a while, new trends emerge. In the 1990s, reduction of fat and oil was an issue. Then it was the reduction of salt, then sugar.
Most recently, there is this mindset migration to whole grains or super grains. And one of our premium biscuit brands just so happens to be using whole grains.
We always keep an eye on trends. But at the same time it's also important to stick to tradition-generations grow up with it. So changes have to be subtle.
CV
Age: 42
Nationality: Turkish
Career:
2016 onwards: CEO, Pladis Global
2015-16: Executive deputy chairman, Yildiz Holding
2012-15: Board and executive committee-member, Godiva Chocolatier
2014-16: Board and executive committee-member, united Biscuits
2013-15: CEO, Transformation and non-food business of Yildiz Holding
2010-15: CFO and board member, Yildiz Holding
2006-10: CFO and board member, Erdemir Group
2003-06: President, Oyak Konut Residential Real Estate Development Co.
1997-99: Corporate Strategy, Koc Holding
Education:
Istanbul University, London Business School, MIT
Hobby:
Diving, skiing, and baking
Family:
Married, with two children