Home / Business / Biz Photos
Mobile World Congress in Barcelona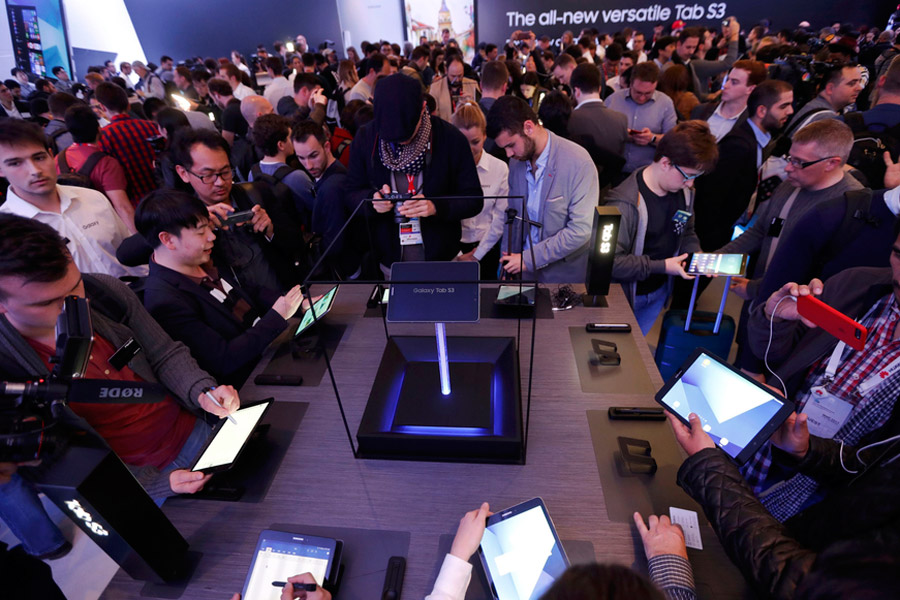 Visitors check new Samsung Galaxy Tab S3 devices during an event at Mobile World Congress in Barcelona, Spain, on Feb 26, 2017. [Photo/VCG]
Mobile World Congress, the world's largest gathering for the mobile industry organized by the GSMA, kicked off on Monday and will run through Thursday in Barcelona, Spain, with some big announcements having already been made on Saturday, the press day.
More than 2,200 companies, including all of the big names in the global mobile industry such as Samsung Electronics, Huawei, Nokia, Google, LG, Sony Mobile, BlackBerry, ZTE, apart from Apple Inc, are exhibiting at this year's show, launching their new inventions in mobiles.
Besides new smartphones, tablets, wearables, and virtual reality devices, new technologies and developments emerging from the 5G and Network Functions Virtualization (NFV), Internet of Things, mobile advertising and apps will also be introduced at the show.
More than 100,000 visitors are expected to attend the congress this year. Let's take a glance at the show through pictures.