Churning out milk from grass to the glass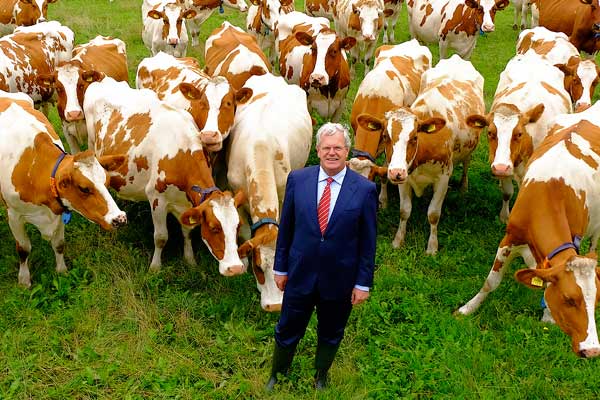 Roelof Joosten, CEO of Dutch dairy producer Royal FrieslandCampina. [Photo provided to China Daily]
For Roelof Joosten, a love of life and milk led him to work in a dairy company. When he landed the job as the CEO of Dutch dairy producer Royal FrieslandCampina, one of the world's five largest dairy companies, he refreshed its strategies and changed it to be a more purpose-driven company.
"Dutch people drink a lot of milk by nature and they have a love for milk. It has been part of their daily lives for many years and we don't know what life would be without milk," he said.
"I joined FrieslandCampina because what I learned from my previous work. I believed I could help the company to go to a different level. Working for the stakeholders, in this case farmers, is something I appreciate," he said.
Recently, he spoke to China Daily about the company's e-commerce expansion plans in China and emerging opportunities in smaller Chinese cities.
The following are the edited excerpts of the interview.
Do you have any expansion plans in China in the next few years?
We obviously want to expand further into infant formula, but we also would like to enlarge the other categories, predominantly food service, cheese and ultra-heat treatment milk. We would like to put more effort behind those three categories and diversify our business, but at this time, the most important category to play with is infant formula and we should not lose focus on it.
What are your competitive advantages over other international and Chinese brands?
FrieslandCampina is not in the game of volumes, but into value creation. In China, we primarily focus on infant formula, because we believe that we can create a lot of value there in how we control our quality and the safety of our product line. We are one of the few producers who control the total full dairy chain, so it's from grass to glass.
Do you mainly target high-income consumers?
Overall, we target consumers with higher incomes. For Friso (the company's high-end infant and toddler formula brand), we still focus on first and second-tier cities in terms of distribution and we can still do a better job on that. For Friso, we can go deeper and wider into the Chinese market and use e-commerce to reach out to other consumers.
For example, our cooperation with Suning Commerce Group Co Ltd helps us reach out to those consumers in some third to sixth-tier cities where we don't have any distribution. In these cities, we also target to reach higher income consumers. In the future, we might reach out to the rural areas.
What's your growth potential like with the two-child policy in China?
The regulatory change that will be implemental has had quite an impact on local producers as well as international producers. With stricter rules, the unprofessional players who take advantage of the opportunities in China have to leave the market. That means there will be a lot of infant formula dumping in 2017, which will distort the market somewhat. I think the market will recover from that in 2018, when the second-child policy kicks in to have an impact on the market. So I believe 2018 will be a year of full recovery and growth-and the years to come as well.
Do you plan to increase your R&D efforts in China?
At the moment, we are building a food services lab in Shanghai, in order to support the food service activities in China. We have a research center in Wageningens in the Netherlands and in Singapore. They are the focus centers for infant formula. We have no plan yet to build research lab in China, but it might still be a possibility in the future.
Do infant formula products popular in Asia have any flavor difference with those in Western markets?
The recipes in China are slightly different from what we have in Europe. There are a little bit of differences in the composition, such as in content of protein and lactose, as the requirements in China GB standards are different from Europe.
From the quality and food safety perspective, there is no difference.
Why do you like to work at consumer companies?
The good thing is that you can see your own product and experience your product, compare with the competitors' and bring your product to life.
It makes it more interesting if you work for a company like FrieslandCampina because you work for the farmers. FrieslandCampina is owned by farmers, it's a cooperative, so we know our shareholders. We aim to provide better nutrition for the world, the new generations to come, and a good living for our farmers.
What's your management style like?
I try to assemble people around me, most of them are much better than I am myself, and I give them a lot of responsibilities. In my previous jobs, I hated it when the general manager looked over my shoulder. You have to give them freedom to work and trust them. That's what I'm trying to apply at my work.
I think that getting high-quality caliber of people, people who deserve trust, and then giving them freedom is important, so I can focus on the primary tasks of a CEO, which is employee management and looking at the general direction and sustainability.
I'm a down-to-earth boss. I was born in the northern part of the Netherlands, and there is a saying says that "you should never forget where you come from", and also another saying says that "it could always be worse", which keeps people humble.
How do you spend your weekend?
When I'm not traveling on business trips, I try to spend time with my family. Earlier I traveled with my wife to the southern part of Argentina. It was a trip that I wanted to go for a long time. It was a very interesting and an almost spiritual experience.
For the rest of my time on weekends, I do sports. I play golf, and I run. I have run two marathons. I also bought a race bike. I want a healthy life, because when I am on business trips, there's usually not much exercise and a lot of eating and drinking, which isn't good for the body.
Do you have a green lifestyle?
I try to live an environmentally-friendly lifestyle. I separate my waste and we have energy and gas from green sources.
My car is a hybrid and uses both fuel and electricity. These are only small things. But it shows that whenever it's possible, we are trying to have a green approach to life.
What's your favorite Chinese city?
I have been here many times since 1995, but I have not seen enough Chinese cities yet. The cities I visited are very special in themselves. Beijing has a rich history, Shanghai breathes the international dimension into China, so I like that as well.
Looking out from a hotel at Pudong was a very nice experience, particularly at night time. I have no special preferences, but I always like to visit new cities and to explore.