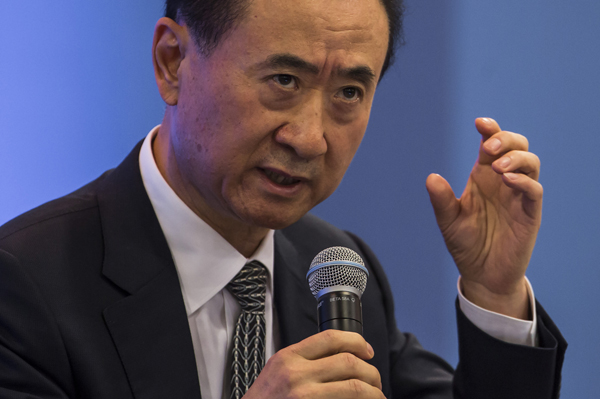 Wang Jianlin, chairman and president of Dalian Wanda Group Co, speaks during the Hong Kong Asian Financial Forum. [PHOTO / AGENCIES]
Privatization a victory for Wang Jianlin after recent tough months
Billionaire Wang Jianlin won shareholders' approval to buy out his property unit for HK$34.5 billion ($4.4 billion), according to people with knowledge of the matter, clearing the way for the biggest-ever privatization deal in Hong Kong.
The HK$52.80-a-share bid for all of Dalian Wanda Commercial Properties Co's Hong Kong-listed shares received the necessary support of minority investors at an extraordinary meeting of shareholders in Beijing on Monday, according to the people, who asked not to be identified ahead of an official announcement. Wanda didn't immediately respond to a request for comment.
The decision sets the stage for the chairman of Dalian Wanda Group Co to relocate the property developer's listing to the Chinese mainland, where companies are fetching higher valuations than in Hong Kong. The victory is a relief for the Chinese tycoon, one of Asia's most prolific dealmakers, who's recently been facing difficulties completing transactions at home and abroad.
Wanda Commercial shares were suspended from trading pending the announcement of the vote. They closed at HK$51.20 on Friday, or 3 percent below the buyout offer. Aside from being the biggest going-private deal on the Hong Kong Stock Exchange, the transaction is poised to be the largest acquisition to date for a tycoon who's already having his biggest year ever in terms of mergers and acquisitions, according to data compiled by Bloomberg.
Ahead of the vote, Wang clinched the endorsement of the two largest minority investors in Wanda Commercial and the two most influential proxy advisory firms - Institutional Shareholder Services Inc and Glass Lewis&Co.
Last month, Wanda Commercial made the rare move of issuing statements that the two biggest investors - China Life Insurance Co and Kuwait Investment Authority - would vote for the deal after Bloomberg News reported that the $483 billion asset-management arm of APG Groep NV balked at the offer as being too low.
A failed bid for Wanda Commercial would have added to what's been a tough few months for Wang. This month, the tycoon scrapped a $5.6 billion reorganization of his entertainment assets and in July, one of his units was forced to raise its offer for Carmike Cinemas Inc after minority investors opposed the bid.
Beyond M&As, Wang's Chinese movie-theater chain operator, Wanda Cinema Line Co, has been losing market share amid a slowing domestic box office and he recently shut a theme park in Wuhan, Wubei province, for renovation, less than two years after the park's opening.
Only 14 percent of Wanda Commercial's shares are available to trade on the exchange. The rest are unlisted, registered in the Chinese mainland and mainly controlled by Wang.
Bloomberg