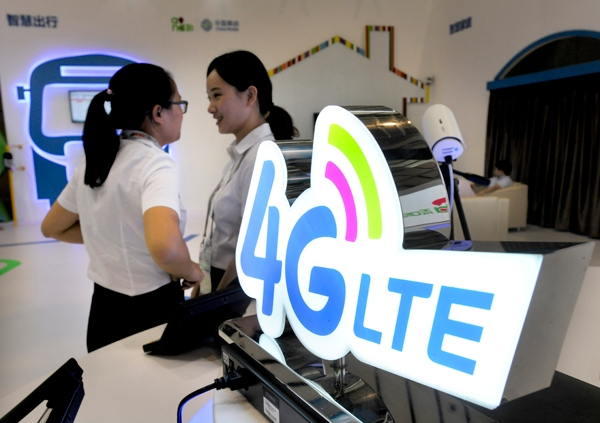 The stand of China Mobile at an industry expo in Nanjing, capital of Jiangsu province. AN XIN/FOR CHINA DAILY
China Mobile Communications Corp, the country's largest telecom operator, said it will scrap domestic roaming charges by the end of this year, a fee that is considered as a key source of revenue for telecom carriers, as the company focuses on more lucrative 4G services.
"Since July, China Mobile has stopped selling new service packages that include domestic roaming charges on cross-province phone calls," said Li Yue, president of China Mobile.
He predicted that the company will cancel all roaming long-distance packages by the end of the year, and boost integrated service packages in the future.
China Mobile's first-half net profit grew 5.6 percent due to fast growth in lucrative 4G services. Its 4G subscribers grew to 429 million, reaching 51 percent of the total.
It is noteworthy that the firm's revenue from its data transmission business exceeded traditional businesses such as voice services for the first time, becoming the company's largest source of income.
China Mobile is not the first telecom carrier to scrap domestic roaming charges. In July, China Telecommunications Corp announced it would cancel such fees and implement full-flow charges, which means that calls and short messages will be converted into data flow and then charged.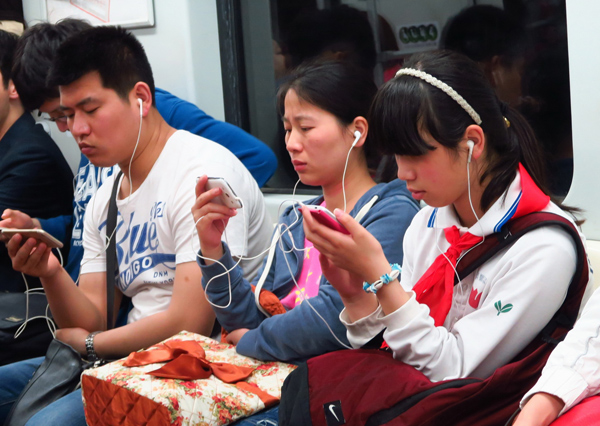 Passengers use their mobilephones in a subway in Ningbo, East China's Zhejiang province, May 6, 2015. [PHOTO FOR CHINA DAILY]
China United Network Communications Group Co has yet to announce whether it will abolish its roaming fees.
Chinese telecom carriers collect domestic roaming fees when the subscriber leaves the local service area, with amount ranging from 0.6 yuan to 0.8 yuan a minute depending on the packages subscribers have signed up.
However, the fees have been criticized by users as being too high.
The industry has been discussing the removal of roaming charges for years, but the telecom giants are reluctant to remove these fees.
In April, the Ministry of Industry and Information Technology called on telecom carriers to gradually stop charging domestic roaming fees.
"For telecom carriers, they should focus on transforming 2G and 3G users into 4G subscribers and upgrading 4G service packages to stimulate data flow consumption," said Xiang Ligang, a telecom expert and CEO of industry website cctime.com.
Xiang said that China Mobile's decision to scrap domestic roaming fees was due to pressure from China Telecom and telecom regulators. He added that it would not suffer any big losses due to this move.
Fu Liang, an independent industry expert, said: "The proportion of data flow business will become increasingly high for telecom carriers. Packages based on data services will be the trend in the future and voice charges will be simplified."