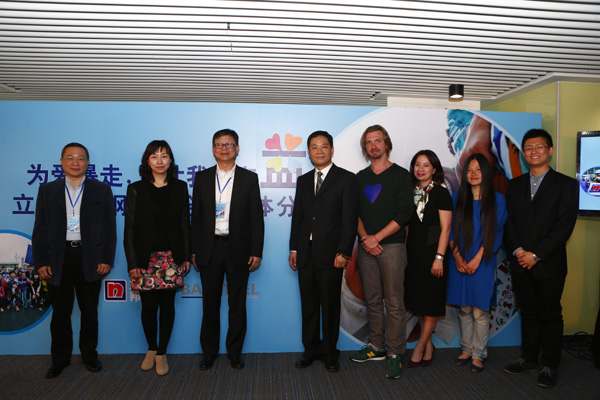 Nippon Paint China, Baosteel Group and the Shanghai United Foundation held a press conference about a CSR cooperation program. [Photo provided to chinadaily.com.cn]
Nippon Paint China and Baosteel Group have lent substantial support to the "Walking for Kids" program initiated by Shanghai United Foundation (SUF) to improve children's health in poverty areas in China from the beginning till the end.
Although Nippon Paint's "Color, Way of Love" project, Baosteel's "Friendly Baosteel" and SUF's "Walking for Kids" program are different charity programs, they share the same value with regard to corporate social responsibility (CSR). The three parties explained their cooperation programs in detail at a press conference on April 15, 2015.
Originated from walkathon, but not just walkathon
As an enterprise always highlights corporate social responsibility, Nippon Paint would like to call on more people to pay attention to vulnerable groups through its charity programs in order to provide them with love and care and make them enjoy the colorful world. Throughout its CSR programs, from "Color, Way of Love" project's painting walls for schools to raising money for children in poverty-stricken regions via walkathon campaigns, Nippon Paint has always shown commitment to its social responsibility and promoted the development of charity cause.
Along with Nippon Paint, Baosteel Group has also made substantial contributions to the charity cause. According to He Chao, PR director at Baosteel, the group has promoted a string of CSR programs across the country and won the China Charity Award, the most prestigious award initiated by the Chinese government to recognize outstanding social responsibilities, for five consecutive years. Guided by the same CSR philosophy, Nippon Paint and Baosteel Group have entered into cooperation for good causes.
"Nippon Paint and Baosteel established links due to the 'Walking for Kids' program, but our connection will not end there even if the walkathon activity comes to a close. There will be more CSR cooperation opportunities between our two companies," said Eric Chung, President of Nippon Paint China.
Perfect combination of graffiti art and charity
Julian Seth Malland, a French street artist was also invited to attend the meeting. His works and experience have prompted vivid impressions in the minds of the participants.
People may be not familiar with his name, but must have heard of his wall paintings at a demolition site on Kangding Road in Shanghai. Malland shared his impressions of a recent painting trip to Fengjing, an ancient town in Jinshan district. Paying attention to cultural heritage, Malland had talks with local residents and played games with children on the farmland before he started painting. The ten works he painted featured local characteristics.
"Mr Malland is a grassroot artist, whose dreams and life pursuits coincide with Nippon Paint's CSR philosophy – encouraging people with colorful dreams to create their own future," said Ariel Wu, the company's Group PR, CSR and Brand Communication Director, adding that the company was pleased to see Malland joining the charity campaign and helping people create a wonderful homeland.