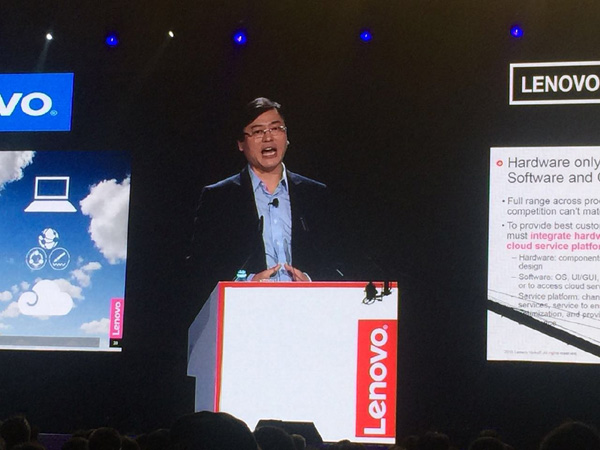 Yang Yuanqing, chairman and CEO of Lenovo Group, speaks at the Lenovo FY2015 Kickoff in Beijing on Monday. [Photo by Zhao Tingting]
Lenovo Group, the world's largest personal computer maker, is targeting 40 percent of the PC market in China and revenue of $10 billion in the 2015 fiscal year, said Yang Yuanqing, the company's chairman and CEO.
Yang said at the Lenovo FY2015 Kickoff in Beijing on Monday that the company saw its PC business grow for 22 consecutive quarters in China and acquired 33.6 percent of market share last year.
"The PC market is still the most important sector of Lenovo, we will further solidify our market leadership and profitability," said Yang.
Globally, the company plans to sell 70 million personal computers and achieve market share of 23 percent.
After the purchase of Motorola's mobile business in October, Lenovo became the third-largest smartphone producer in the world.
"Dual-brand strategy will be used in Lenovo's smartphone sector," said Yang.
The Motorola brand will keep a strong momentum in North America, Latin America and India and expand to China and Europe. While the Lenovo smartphone brand will focus on China and emerging markets, Yang added.
In the new fiscal year, Lenovo is eyeing sales of 120 million smartphones and tablets.
The quarterly revenues of Lenovo reached $14.1 billion from October to December, up 31 percent year-on-year, according to a company disclosure in February.
Lenovo acquired IBM Corp's low-end server business in September.