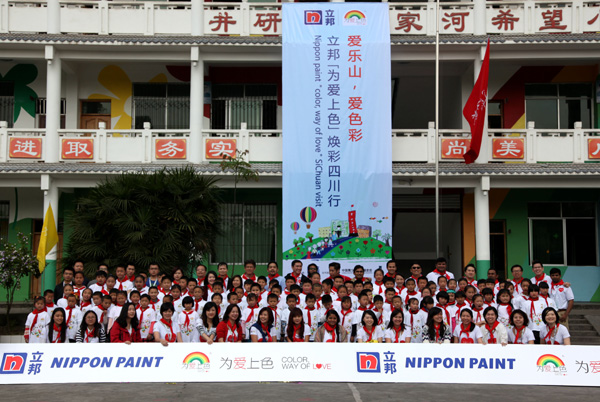 Nippon Paint spreads a coat of love in Sichuan province. [Photo provided to China Daily]
More than 40 staff members from over 15 countries and regions in Asia of Nippon Paint, whose parent company is Nipsea Group, gathered in Leshan city, Sichuan province, on April 11. The staff members came to the province to serve as volunteers at the Yangjiahe Hope School and bring love, color and joy to students.
Volunteers from Nippon Paint in different countries made their best efforts to entertain students. Gladys Goh, a staff member from Nippon Paint Malaysia, led a team of volunteers to paint murals on the school's walls. Ariel Wu, a staff member from Nippon Paint China, taught students how to draw with crayons and Jason Goh, a staff member from Nippon Paint Vietnam, presented a vivid English class. Nippon Paint's employee, Hans He, even garnered students' sports enthusiasm with an intense basketball match.
Yangjiahe Hope School was built in 2006 and has suffered from decaying old walls. In 2010, Nippon Paint gave the school's walls a fresh coat of paint, giving them a new lease of life. This time, volunteers of the charity project "Color, way of love" came to the school to donate books, painting brushes and sports goods to the students.
As of 2014, Nippon Paint's charity project "Color, way of love" has covered more than 100 cities and towns around the country, benefiting over 60,000 students in rural areas. The project has also gained support from Nippon Paint's staff members, business partners and college students.
As a leading coatings provider in the Asia-Pacific region, Nippon Paint is committed to fulfilling its social responsibility and is planning to bring color and hope to more children in Asian countries.