'Reverse mortgage' income stream yet to gain popular acceptance, reports Wu Yiyao in Shanghai.
The old adage of "raising children as a pension for old age" has acquired a hollow ring in our fast-moving times. The tradition of the old agricultural society is fading fast. For many elderly couples, the apartments they own are a much more assured guarantee of funds in their twilight years.
Meanwhile, instead of fulfilling their filial duties, many young people, especially those in larger cities, are living off their parents' savings. It has almost become customary in recent years for a son to expect his parents to provide the down payment on an apartment as a wedding gift.
The problems of the rapidly-aging Chinese population are compounded by the fact that many elderly people are covered by limited pensions in cities and some have no cover at all. The insurance industry on the mainland was in its infancy when today's elderly people were of working age.
Other than their savings, the only financial backup a typical elderly couple has is usually the apartment in which they live. But escalating property prices nationwide have offered these elderly homeowners the option of generating a steady income through, in banking parlance, a "reverse mortgage". 
Popular in many developed economies, reverse mortgages allow property owners to use their homes as collateral to secure a bank loan which is released in a set monthly amount over a fixed term, which can run for many years.
In recent months, reverse mortgages for senior citizens have drawn wide attention across the country. Beijing municipality and Liaoning province in Northeast China have said they will pioneer "homes-for-pensions" plans in the coming five years. Other cities and regions are expected to follow soon.
China Citic Bank, the first lender to introduce a homes-for-pensions plan in China, recently launched a service for home owners aged 55 or older, as well as their offspring, who want to find a source of funding by putting their homes on a reverse mortgage.
The facilities for this sort of mortgage are presently kept below 60 percent of the market value of each property. The borrower can opt to receive a monthly payment, with a maximum of 20,000 yuan ($3,170), over a period of no longer than 10 years, according to the bank.
Reverse mortgages have yet to become popular in China, and it will take a long time before people recognize and accept them, according to China Citic Bank. However, economists and sociologists believe the homes-for-pensions plan will catch on quickly as the elderly become more aware of it.
As the first generation of China's family planning policy, introduced in the 1970s, many young couples have to cope with an added burden. Each member is an only child, but the couple has to support two sets of elderly parents and sometimes even grandparents as well.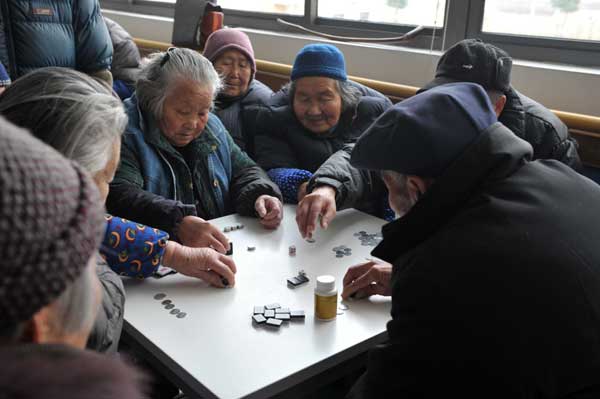 Senior citizens play mahjong at an old people's home in Anting town in Shanghai's Jiading district. China has seen a growing number of elderly people since 1999. Some cities plan "homes-for-pensions" projects to supplement low pensions. Provided to China Daily