Farm played crucial role for overseas Chinese forced to flee, Raymond Zhou and Huang Yiming report in Hainan.
When Du Tianjiang first arrived in Xinglong, his heart sank. People were living in mud huts with thatched roofs and used the most primitive farm tools. By comparison, his life in Indonesia had been a picture of modernity.
That was in the early 1960s when Xinglong was the farm where thousands of overseas Chinese settled down after being driven out of their adopted countries. When the first 756 settlers arrived on Oct 13, 1951, things were even worse.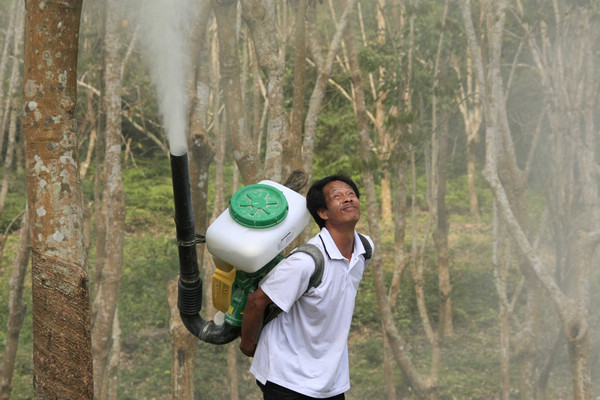 A farmhand sprays pesticide in the rubber plantations of Xinglong, an area of Hainan Island with a long and varied history. [Photos by Huang Yiming / China Daily]
Today, Xinglong has a population of 25,000 and covers an area of 110 square kilometers. Many of the pioneers have retired or passed away. Du, 71, recently opened an Indonesian restaurant which is managed by his children and attracts busloads of tourists who want a taste of Southeast Asia.
Driving around Xinglong, half way on the south-north expressway on Hainan Island, one gets a perfect picture of a tropical paradise, with wide, clean boulevards and colorful buildings, and of course all kinds of tropical plants that provide economic value or simply visual splendor.
In early 1954, Li Qingquan decided to forgo the relative comfort of metropolitan Guangzhou and volunteered to "go to the place with the most hardship". Unlike Du, he was not deterred by what he saw in Xinglong. Instead, he was determined to make it his home and turn it into a better place.
He had been living in Malaya (now Malaysia) until he was arrested and sentenced to 17 years in prison for communist political activities. After serving two years, during which time he says he made "endless trouble for prison authorities", he and dozens of other prisoners of Chinese ethnicity were deported.
"They told me life was so hard in Xinglong that people were dropping like flies. But I insisted on coming here," said Li, 88, who despite his years is still robust and spirited. He chose to work at a brickyard, and a year after arriving was married.
Most of the first to arrive were blue-collar workers from Malaya, and the reasons for their being expelled were mostly ideological subversion. The second wave of 1,400 immigrants was like Du, small proprietors from Indonesia, slightly wealthier and less politically driven. The third surge did not happen until the late 1970s when Vietnam forced out hundreds of thousands of ethnic Chinese who had been living there for generations. Some 6,000 ended up in Xinglong, although roughly half later left.
"The Chinese word huaqiao, meaning overseas Chinese, is a misnomer when applied here," Du said. "We were huaqiao while we were in Southeast Asia, but as soon as we came back to China we were refugees, or returned huaqiao."
Perhaps for the sake of simplicity, Xinglong is known as a "huaqiao farm". Nationwide, there are 84 such farms, including five in Hainan province. Xinglong is one of the largest and best known.
But what is in a name? Xinglong started as a collective farm and later came under State ownership. For some time it took on the title of a "people's commune" or "People's Liberation Army Production and Construction Corp" to go with political winds. It also fell under various offices of jurisdiction, for the most time supervised by the provincial-level Overseas Chinese Office, and most recently the local government.
"There is a government fund for huaqiao on our farm, which disburses 1 million to 2 million yuan ($158,000 to $315,000) each year," said Chen You, vice-president of Xinglong Huaqiao Farm. "Other than that, we're on our own."
He said the people who arrived from Vietnam also received financial assistance from the United Nations for the first five years.
Like all trailblazers, the first generation suffered the biggest setbacks. But it was not the physical hardship or the material scarcity that struck them the hardest; it was the political upheavals.
"When I was tortured in Malaya, I didn't shed a tear," Li said. "But I couldn't control myself when I was accused of being a Kuomintang spy in the late 1960s."
Having prized himself on being a model worker on the farm, "I believed my name would be cleared", he said. When his father returned to China for a visit in 1970, Li convinced him to stay on so people would realize the whole family had been nothing but unadulterated material for Communism.
Du remembers leaders from the top would also visit. "Liao Chengzhi, who was in charge of overseas Chinese affairs, would have his secretary call the farm to inquire about our living conditions," said the former vice-president of the farm and now president of the Xinglong Indonesian Huaqiao Association.