Greater global role has its burdens for our ambassadors of goodwill, Jiang Xueqing reports from Ya'an and Chengdu, Sichuan province.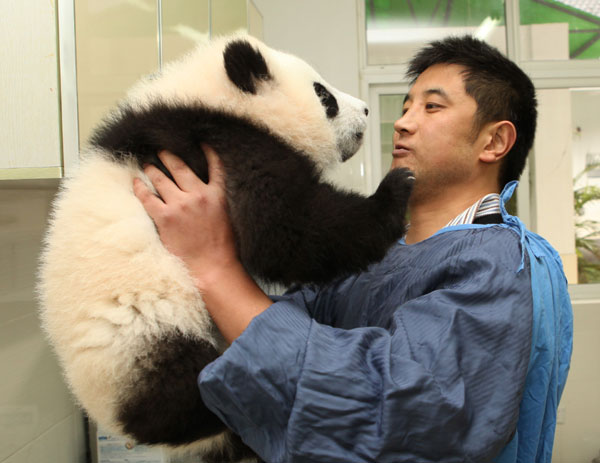 Zhang Yahui, an asistant at the Bifengxia Panda Base in Ya'an, Sichuan province, checks the weight of a 4-month-old panda. Luo Bo/For China Daily
China's giant pandas are on the move again.
Yuan Zai and Huan Huan will leave on Sunday for Beauval Zoo in central France, according to the Chengdu panda research base.
This follows the arrival of another panda pair in Scotland on Dec 4.
Yuan Zai is male and Huan Huan female, and both were born at Chengdu.
Further details were not available but will be announced at a news conference on Tuesday.
Giant pandas have been goodwill ambassadors for China for more than 1,000 years. They still serve that role, but animal conservation and scientific research, both nationally and internationally, play a bigger part.
Although their mission is significant actually getting pandas to a foreign destination has never been easy.
Wu Zetian, the first empress in China during the Tang Dynasty (AD 618-907), is said to have given a pair of pandas and 70 sheets of panda skin to Emperor Temmu of Japan in October 685.
The first person to take a living panda out of China was Ruth Harkness, an American fashion designer. She captured a 6-week-old cub during her exploration of a mountainous region in Wenchuan county, Sichuan province, in 1936. She named the cub Su Lin, which means "a little bit of something cute", after the sister-in-law of her expedition partner, Quentin Young.
With the help of friends, Harkness bribed customs officers to record her as "taking along a barking dog". Su Lin was carried onto the ocean liner President McKinley in a bamboo basket and then outside China. Later, the cub was sent to the Brookfield Zoo in Chicago and attracted as many as 40,000 visitors a day.
Sixteen pandas were taken out of China - some illegally - from 1936 to 1946, according to the Chengdu Research Base. At least 70 dead, stuffed pandas are stored in museums of other countries.
Since 1994, the Chengdu base and China Conservation and Research Center for the Giant Panda in Sichuan have sent at least 26 pandas to the United States, Australia, Japan, Thailand, South Korea, Spain, Austria and the United Kingdom for cooperative research on panda conservation, breeding and veterinary medicine.
The pandas at the Edinburgh Zoo are female Tian Tian (Sweetie) and male Yang Guang (Sunlight), both born in August 2003. They left the Bifengxia Panda Base in Ya'an, Sichuan province, and spent a couple of weeks settling into their new home before public viewing opened on Dec 16.
They will be on loan to the Royal Zoological Society of Scotland for 10 years, and it is hoped they will produce cubs during their stay. The projects make the Edinburgh Zoo the eighth zoo in the Western Hemisphere to have giant pandas, and Beauval will be the ninth.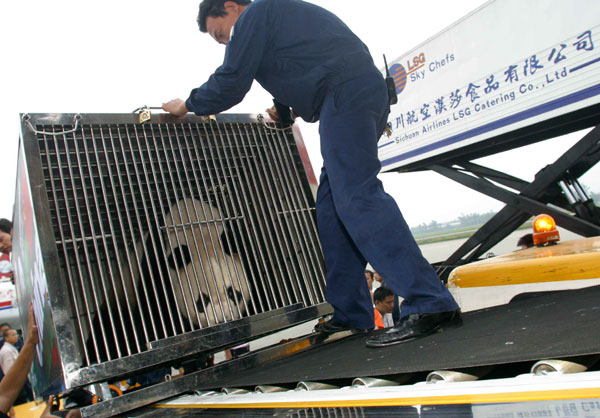 Hua Zuiba begins a 30-hour journey to Spain in 2007. It took her several months to relax in her new home. Xie Hui / for China Daily
Making the transition
To help the pandas adapt to their new environment more swiftly and smoothly, Chinese experts escort them to their new countries and teach local keepers and veterinarians how to raise captive pandas in a simulated wild environment.
It wasn't an easy transition for Wang Wang and Funi, who left Bifengxia for Adelaide Zoo in South Australia in November 1999. They had just developed extra fur for a Ya'an winter, when the average temperature is 5 degrees Celsius. In Adelaide, however, it was summer and 35 C on average. The pandas' thick coats prevented them from cooling easily.
During their first month, the pandas stayed all day inside, where the temperature was controlled at 18-20 C. The next month, keepers opened the enclosure door for a half-hour each day to encourage the pandas to go outside and get familiar with the new environment.
In a week, Wang Wang caught cold. He had a runny nose, lost his appetite and ran a fever as high as 38.9 C (normal is 37). Veterinarians diagnosed him with mild pneumonia and gave him medication. He recovered two days later.
Adelaide is Australia's driest state capital, with an annual average rainfall of just 549 mm, compared with more than 1,800 mm for Ya'an. It has only a couple of types of bamboo, which Wang Wang and Funi do not quite enjoy. To meet their dietary requirements, Adelaide Zoo began to fly in bamboo every week from Queensland in northeast Australia, according to Luo Bo, who took the pandas from Ya'an to Adelaide. The zoo also has a 14-hectare browse plantation at Bolivar, a northern suburb of Adelaide.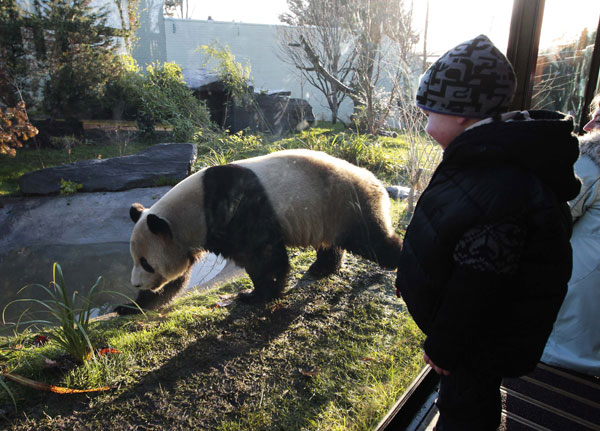 Yang Guang draws attention as he explores his new enclosure at Edinburgh Zoo at a preview on Dec 12. The Scottish public got its first look four days later. David Moir / Reuters
Homegrown supply
All of the zoos that receive pandas from China have found bamboo supplies in their own or nearby countries. At the US' National Zoo in Washington, each panda is fed about 23 kg of bamboo a day. Most of what they eat is grown on a farm in southern Maryland in the US.
"These countries do not import bamboo from China mainly because long-distance transportation expenses remain high," said Luo, who is deputy director of panda husbandry at China Conservation and Research.
"Besides, it is hard to preserve fresh bamboo during the trip. Not to mention that it usually takes one or two months for living plants like bamboo to go through the quarantine procedure before they are allowed for exportation."
The Edinburgh Zoo expects Tian Tian and Yang Guang to consume nearly 18,000 kg of bamboo every year, or about 20 three-meter stems each day.
Initially, German grower Reiner Winkendick is providing 85 percent of the animals' requirement with bamboo he produces at a nursery on the outskirts of Amsterdam. The rest is grown at special sites around the zoo. After three years, the zoo will increase its homegrown supply.
Stress of flying
Among all factors that would stress the pandas, long-distance travel is the most significant, said Li Mingxi, an expert at the Chengdu base.
In September 2007, Li and a colleague escorted pandas Bing Xing and Hua Zuiba to Madrid Zoo in Spain. They took off in Chengdu on a TNT cargo aircraft for a transfer in Shanghai.
Because they had already cleared customs in Chengdu, they could not leave the Shanghai airport. The Chinese experts put the caged pandas in a relatively quiet corner of the freight yard, but the loud noises of cargo loading and planes taking off and landing disturbed the animals.
Bing Xing and Hua Zuiba became nervous and restless, pacing their cages for half the night. Li and his colleague were prepared, with 200 kg of fresh bamboo shoots. The food comforted the pandas, and they fell asleep around 4 am. They took off for Madrid a few hours later.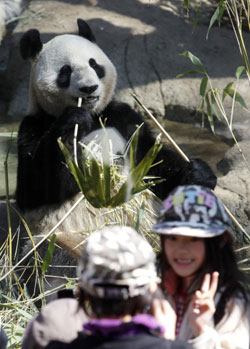 Visitors pose for photos in front of female giant panda Xian Nu, who is called Shin Shin in Japan, as she munches bamboo at Ueno Zoological Park in Tokyo. Her appearance on April 1 with Bi Li, now called Ri Ri, was the first panda viewing in Japan in three years. The 5-year-old had arrived from China's Sichuan province in February. Issei Kato/Reuters
After more than 30 hours of travel, the pair finally arrived at the zoo. The passageways were too narrow, so a crane was used to lift them into their outdoor activity fields. From there, the pandas moved to the indoor enclosures.
Hua Zuiba remained nervous for several months. She clasped her limbs tightly even when she was eating, rather than spreading out her arms and legs comfortably.
"Transportation - especially transfer - has a huge impact on pandas," Li said. "If we take a direct flight, it will be much less stressful. The more twists and turns they experience, the louder noises they suffer, the bigger the impact.
"In an ideal world, pandas should be closed from the public upon their arrival in another country and not receive any form of visit, reception or interview. After several days of rest, they will adapt to the new environment very quickly," he said.
Custom containers
The cages for panda transportation are specially designed and, usually, are made by panda experts. In the case of Bing Xing and Hua Zuiba, the pair bound for Madrid, the Chinese experts sealed three sides of the cage with steel plates to prevent people from having contact with the animals and provided many holes on the side plates for ventilation.
For Wang Wang and Funi's trip to Australia, the cage made in China was 1.66 meters long, 1.2 meters high and 1 meter wide. Its main frame was steel, while its baseboard was plastic for warmth. The light inside the cage was kept low to quiet the pandas.
People could not touch the pandas from the outside, nor could the pandas reach out to injure people. Animal keepers and veterinarians could watch the animals at any time from an observation hole that was convenient to open and close. A tray was installed at the bottom of the cage to collect urine, which was soaked up by absorbent material.
Sometimes, containers provided by well-known shipping companies are used for panda transportation.
Tian Tian and Yang Guang traveled in two custom-built containers provided by FedEx Express, which flew the pandas nonstop from Chengdu to Edinburgh on a chartered Boeing 777F, a flight called the FedEx Panda Express. Such containers will also be used to send the pandas to France, Li said.
Write the reporter at jiangxueqing@chinadaily.com.cn