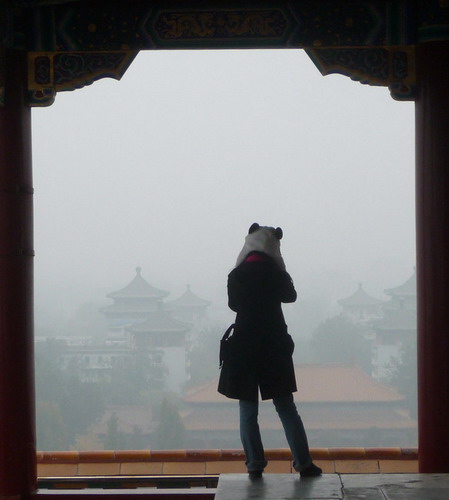 On a "blue-sky day", this tourist would have a clear view from the top of a hill in Jingshan Park in Beijing. But on Monday, visibility was less than 1 kilometer. [Photo by Wen Bao/for China Daily] 
Capital's air quality rating raises public health concerns, Li Jing, Duan Yan and Cui Jia report in Beijing.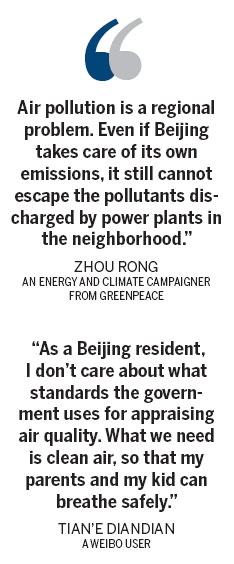 "Fog is not pollution," Du Shaozhong said in his micro blog on Monday morning, in response to a question about Beijing's poor air quality.
It was the third consecutive day of hazy weather, with visibility less than 1 kilometer. And it was the third time in a month that the capital was blanketed in thick smog.
"In Chinese we usually say a fairyland is wreathed in fog. How can it be a fairyland if it is surrounded by pollution?" asked Du, deputy director of the Beijing Environmental Protection Bureau. "But it is true that fog can trap pollutants, which will affect air quality."
The official rating for air quality by Du's bureau on Monday was "slightly polluted" with inhalable particles.
Du blamed stagnant weather conditions - light wind and low atmospheric pressure - a situation not uncommon for Beijing when seasons change.
"At such points, we still have to rely on natural conditions to clear away pollutants, considering we have such a large scale of pollution emissions in the city and a limited environmental capacity," he said.
Beijing residents responded with their views on the air quality through Weibo, a micro-blogging website operated by Sina Corp. Some posted photos of buildings blurred by the thick haze, and some said they feel choked by the smoky air.
"It's like walking in a huge chimney, or having countless people keep puffing secondhand smoke at you - all the time," Yanhanyh wrote on Weibo.
"I don't believe the air is only 'slightly polluted' today. I started to cough after 10 minutes' walk in the open air, and I don't even dare to let my kid go out," said another Weibo user, Dapeng.
By Tuesday night, a little drizzle had begun to refresh the city, but stronger winds and rains are still needed to clear up the haze.
A public trust crisis is spreading over the official readings of Beijing's air quality, especially when some residents find alternatives that are more in line with their own senses.
PM2.5 the culprit
The US Embassy in Beijing has reported its own monitoring of air quality hourly since 2008. The readings are for ozone and for the concentration of PM2.5, the tiny airborne pollutants that cause haze and can travel deep into the lungs and damage people's respiratory systems.
Particulate matter currently measured in China is smaller than 10 microns and is known as PM10, while matter smaller than 2.5 microns is called PM2.5.
Tang Xiaoyan, a professor at Peking University's College of Environmental Sciences and Engineering, said research shows that Beijing's haze is caused mostly by PM2.5. The contribution of larger matter "is rather limited", she said.
As a result, readings from the US Embassy usually paint a gloomier picture than the official ratings from Beijing Environmental Protection Bureau. For Monday, the embassy report described the PM2.5 reading as "hazardous", the worst ranking on the pollution scale according to US standards.
The embassy's reports are posted automatically to twitter.com/beijingair. Accountant Wang Changyu, 32, receives the updates through an iPhone app called Beijing Air Quality, developed by SolarJoke, a Chinese programmer.
"I know the readings from the US Embassy may not reflect the overall air quality of Beijing accurately, but I am feeling very uncomfortable about the air," he said. "I try not to check the updates often because it really makes me feel depressed."
Du dismissed the accuracy of the pollution information on Monday, saying the US Embassy has made it clear that the monitoring is only for internal reference.
Seeking protection
Even so, some Beijing residents are seeking ways to protect themselves from the pollution, at least for psychological relief. Wang said his company started to distribute face masks Tuesday morning and encouraged employees to wear them when they go outside.
Yang Jiachuan, 34, a consultant at an accounting firm, recently spent 18,000 yuan ($2,800) to install a ventilation system to improve indoor air quality at home.
"I have never seen so many hazy days before. Beijing's fall used to be my favorite time. But now, it is totally different," Yang said.
Continual poor air quality has boosted business for Guo Kai, who sells indoor air purifiers in Changsha, Hunan province. His company's sales volume for Beijing rose 30 percent during the past month, Guo said.
"I've seen lots of discussion about air quality on micro blogs, and wanted to share my opinion as an industry insider," he said. Now he answers questions online - not only about his own products, but also types of masks for purchase, a protection many people turn to in outdoor activities.
Luo Yin, mother of a 4-year-old boy, started shopping online for masks after she read about the US Embassy's Beijing air quality report.
"I forbid my kid to play outdoors these days," she said. And she told him to wear two masks to school. "I hate to wear the mask as it ruins my makeup, but I definitely want to make sure that my kid is safe from the pollutants in the air."
Olympic gains
Beijing says it has recorded increasing numbers of "blue-sky days" - those with good air quality - every year in the past decade, but some residents are worried that the capital's air quality has deteriorated since the 2008 Olympic Games.
Yang, the accounting consultant, said she was impressed with the blue skies then. "But obviously not much of those improvements in the air quality were maintained. I'm wondering whether the neighboring factories have stopped their environmental protection measures," she said.
Beijing adopted rigorous pollution controls leading to the Olympics. More than six months before the Games, the capital's biggest polluter - a large-scale iron and steel plant - was moved out of the city. All factories in six surrounding provinces were asked to halt production.
Encouraging more use of public transportation, the city also invested heavily to upgrade its subway systems and bus services. It also took half of its vehicles off the roads for three months.
The result was satisfying. Beijing enjoyed beautiful days during the Games, and the model was copied by other cities hosting big international events, such as the Shanghai Expo and Guangzhou Asian Games. The measures also were celebrated by China's environmental watchdog as an effective cure for regional air pollution.
Not sustainable
"During such events, the political momentum is usually strong, so that it is possible to persuade your neighboring provinces to stop production temporarily," said a researcher on air pollution policy who was reluctant to be named.
"But once the big events are over, there is no reason that these surrounding provinces will still make sacrifices for big cities, and the stringent policies could not continue," the researcher said.
That is the case with Beijing. The small-scale factories that were closed for the Olympics have resumed production, burning coal or diesel and puffing out smoke. China Daily reporters also found that some of the neighboring farming areas are burning straw after the harvest.
And the city now has 5 million cars, 1.5 million more than it has in 2008, despite a car-plate lottery adopted this year to curb the rapid increase in private car purchases.
Stuck in such a situation, Du's bureau seems to have limited policy tools to clean up the sky.
"There are no other ways (to deal with such air pollution) except to continue our emission reduction efforts," he said. "Besides, it is also necessary to alert people about the health impact."
But he insisted that Beijing's air quality has improved year by year. Official statistics from his bureau said the capital had 286 blue-sky days in 2010.
A first step
With continued smoggy days, public pressure has been mounting for the municipal government to monitor and publish results of PM2.5 readings, a goal the country's environmental watchdog says it is pursuing.
The Ministry of Environmental Protection has issued a set of national standards for measuring PM2.5 that took effect on Tuesday. Zhao Hualin, a senior official, told a conference in September that the ministry was considering a revision of national air quality standards to include the PM2.5 measurements.
Zhou Rong, an energy and climate campaigner from Greenpeace, said she has learned that the ministry plans to start regulating PM2.5 within five years and that it will set a binding target to reduce the fine particles between 2015 and 2020.
"However, as the pollutants will have a direct impact on the public health, we hope this process can be accelerated," Zhou said.
Studies on the causes of PM2.5 have been under way in China for about a decade, she said. Coal consumption and vehicle exhaust are the major causes, but in different regions their contribution to the pollution varies.
Either way, there will be no easy solutions, although Beijing's municipal government is dedicated to limiting coal consumption and vehicle ownership. It has set a goal to cap annual coal consumption at 20 million tons by 2015. Last year, Beijing burned 27.5 million tons.
"But again, air pollution is a regional problem," Zhou said. "Even if Beijing takes care of its own emissions, it still cannot escape the pollutants discharged by power plants in the neighborhood."
For the old and young
Monitoring and publishing PM2.5 reports will at least help residents better protect themselves, some environmentalists said.
Li Bo, executive director of Beijing-based Friends of Nature, said, "The conditions are not suitable for any kind of sports outdoors. Schools should halt outdoor activities, such as running, to protect our next generation."
Increased pressure from the people asking for better air quality is expected to push government into taking the problem more seriously and attaching a higher priority to cleaning up the air.
"As a Beijing resident, I don't care about what standards the government uses for appraising air quality," said Tian'e Diandian, a Weibo user. "What we need is clean air, so that my parents and my kid can breathe safely."