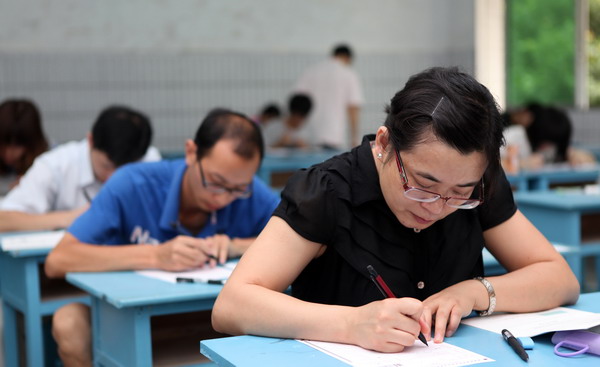 People take the national judicial examination in Chongqing on Sept 17. [Photo by Chen Shichuan/for China Daily]
Answers leaked on Internet amid questions over integrity, Cui Jia, Li Jing and Duan Yan report in Beijing.
The credibility of exams for professionals is being questioned after answers were leaked ahead of tests for accountants, legal personnel, architects and doctors.
Just before this year's exam for certified public accountants (CPA) on Sept 17 and 18, five multiple-choice questions and answers were posted on an Internet forum popular with those taking the exam. The same questions appeared in the test, in the auditing section.
Similar leaks occurred covering material in two other sections of the exam, which was taken by 552,000 people this year. The auditing section, one of six, contained 47 questions worth a total of 105 points; 60 are required to pass. The average pass rate for the full CPA exam is 10 to 15 percent.
"I began to receive at least five text messages a day selling exam questions a month before the exam took place. All of them claimed they could provide genuine questions and answers. They also promised a full refund if the questions were not genuine," said Zhu Hua, 28, who sat for this year's CPA exam in Beijing after failing it last year. "I wonder how they got my number in the first place, because I only provided my contact information when I registered for the exam."
A wave of comment has unfolded about the impact of the exam leaks and cheating by some candidates. Some say they will erode public trust in these qualification tests and in professions that value accuracy and justice.
Ma Jinghao, who works for the accounting division in the Ministry of Finance, said those who passed the CPA exam will likely become the future watchdogs of the economy. "If the exam cannot be conducted fairly, how can people trust the signatures on financial statements and reports?"
"I am furious and feel that it is really unfair for examinees like me who work extremely hard on this," Zhu said. "Is the CPA exam a joke? If anyone could get questions and answers before the exam, then anyone could become a qualified accountant. If that's the case, it is a disaster for the country."
Warnings of fakery
Zhu said she had heard that some questions were leaked last year but the scale this year was far greater. "I heard that for about 1,000 yuan, people could get the contents of the whole paper."
On Sept 8, an office of the Certified Public Accountant Examination Board had warned students to avoid the illegal offers of exam answers and called them a fraud.
The day the exam concluded, the Chinese Institute of Certified Public Accountants announced on its website that the leaks would be investigated and that anyone found responsible would be held to account legally. The institute declined to give further details.
A similar warning to students, that exam answers being sold online were bogus, was made on Sept 15 by the National Medical Examination Center. The center advised students to focus on exam preparation by sticking to professional ethics and to comply with the exam rules with integrity.
But during the medical licensing examination, also on Sept 17 and 18, China Youth Daily reported that one Internet user received 20 questions from a source 90 minutes before a test on the second day and found them to be identical to questions in the test. Similar leaks had been reported in 2007 and 2009, the report said
After the leak was brought to the spotlight, a user of Sina's micro-blogging service wrote, "If the doctor I'm seeing got his/her qualification by cheating, what can I do? I don't want to risk my health, if not my life."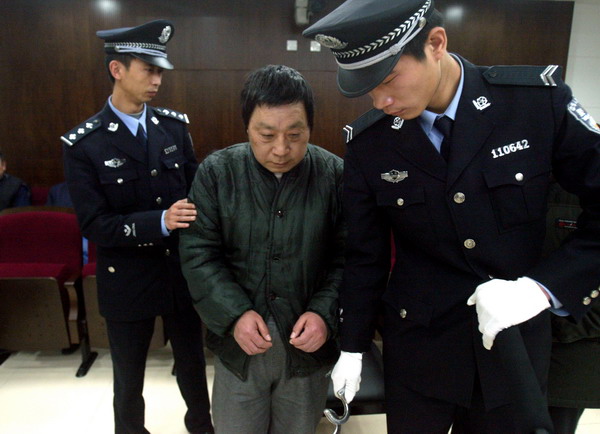 Song Fulai, who composed questions for the certified architect exam, was sentenced in Beijing in 2008 to 18 months in prison for leaking state secrets. The court found that he gave exam questions to his students during tutorials. [Photo/provided to China Daily] 
'What is more unjust?'
A different blogger, using the name "2011 judicial exam answers were leaked", complained that people who were taking the judicial exam knew the answers in advance. The blogger posted images of text messages about the answers to exam questions. The messages were time-stamped 10:12 am on Sept 18; the exam was scheduled to begin at noon.
In China, passing the exam is required for people who want to be judicial officers or lawyers. "What is more unjust than the injustice of the law?" one of the posts said. The blogger didn't reply to China Daily's request for an interview.
China has been giving the National Judicial Examination for more than 10 years and the passing rate has risen from 6.7 percent in 2002 to 20 percent last year.
The Ministry of Justice acknowledged that it was aware of the Internet allegations, but since the source is anonymous, it was uncertain whether the leaks were true. The ministry said its examination department will look into the allegations.
In 2008, a senior ministry official was arrested over leaked answers to the 2007 national judicial exam. Lin Jiandong, the director of a supervisory office, was convicted of accepting bribes and leaking state secrets. He was sentenced by the Hangzhou Intermediate People's Court in February 2009 to 5 years 6 months in prison.
Architects, too
Exam answers also were leaked online during the certified architect exam last weekend. A dealer posted all 80 single and multiple-choice questions in the first section of the exam with their answers. Eighty percent of them were correct.
Those answers were free, but the dealer said that exam takers could buy all the answers for the remaining three subject areas at 4,000 yuan ($625) for each section. Many students left comments on the dealer's blog, expressing great interest in making the purchase.
The exam administrator, the Ministry of Housing and Urban-Rural Development, has issued no response.
In 2008, Song Fulai was sentenced in Beijing to 18 months in prison for leaking state secrets by giving exam questions to his students during tutorials. Song was a question composer for the certified architect exam.
A lucrative business
Experts say there's an intricate chain of commercial interests behind professional qualification tests, and regulation is scattered among the ministries that oversee the different professions. The experts also say some individuals or companies are using those commercial interests to make illegal profits, in the process damaging the credibility of the exams.
Mao Jianghui, a researcher with Qinghai Provincial Institute of Social Sciences, said more than 50 types of professional qualification tests are administered. The exam business - registration, training, purchasing of preparation materials, certificate authentication and so on - is estimated to involve 300 billion yuan every year.
The exam organizers, training institutes and sellers of examination materials are obvious winners from the prosperous market.
At the Judicial Exam College, a training center affiliated with China University of Politics and Law, the most expensive program lasts about half a year and costs 28,800 yuan. But a student can receive a 20,000 yuan refund if he or she fails the bar exam.
In the cheapest program, exclusively for university students, participants sit in a 200-seat classroom and watch lecture videos. It costs 400 yuan.
About 80 percent of teachers who compose questions for the exam are from the university, giving the college much more authority and advantage than privately run training centers, said Wang Qiang, who works for the college.
"Some of them would come to give lectures," he said, but he rejected any possibility that the college's training programs would leak exam answers. "Of course the lecturers will tell students about the critical knowledge points in previous exams, which are helpful for preparation."
Some other training centers seek to hook students by saying they have successfully "predicted" exam questions in the past. Such centers have been proved in court to be a major source of exam leaks, a highly profitable business. Two examples:
Before the national medical licensing examination in 2009, an officer named Ye with the organizing body leaked four sets of exam papers to a training center.The center promised trainees it would use real questions when giving lectures and it charged each student more than 10,000 yuan.
In 2007, Li Daogui and Yang Shuzhen from Beijing Buyun Cultural Development Co paid 100,000 yuan for questions and answers to the certified architect exam. They sold them to company-owned training centers and made a profit of more than 400,000 yuan.
"There are still many loopholes for possible leaks, from the process of question designing to delivery of the exam papers," said a source close to the organizers of professional qualification tests, who was reluctant to be named. "People will take any risks as long as they can make a profit."
Postscript
Zhu Hua, the woman who was targeted with offers of test questions on the CPA exam, doesn't yet know how she fared. Results are due at the end of November.