Victims of marine pollution look to the courts for justice, reports Li Jing from Beijing.
When some of his sea cucumbers showed signs of distress in late June, Xun Shaobin did not expect that the majority of them would soon perish.
The 58-year-old sea farmer from Laoting county, Hebei province, cultivates 4.2 hectares of the marine animals.
"Some sea cucumbers began to turn a yellowish green from their normal black. So I went to other villagers to seek help, only to find out that they were facing the same problems," Xun said.
"We didn't know the cause at that time, nor did we know anything about the oil spills. In less than a month, about 60 percent of my sea cucumbers had died."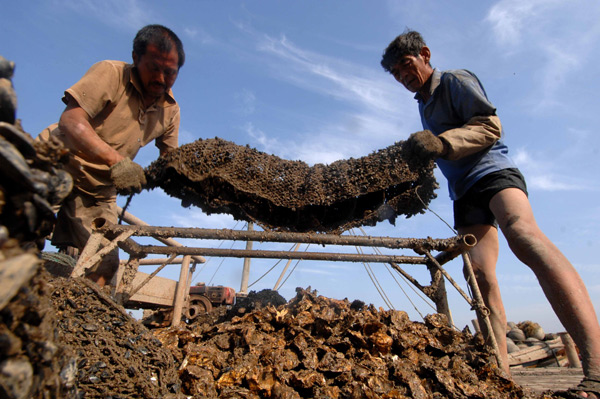 Hundreds of scallops are dumped in Luanjiakou port, in Penglai, Shandong province, on Aug 25. Sea farmers say their livelihood is under threat following an oil spill in Bohai Bay. Guo Xulei / Xinhua
He estimates that he has lost about 1.2 million yuan ($188,000).
In a series of spills starting on June 4, oil from the Penglai 19-3 oilfield operated by ConocoPhillips China seeped into Bohai Bay, off the coast of Shandong province. The sheen reached coastal areas of Hebei and Liaoning provinces by late June.
Wednesday was the deadline to clean up the spill.
By last Thursday, official statistics showed that 5,500 square kilometers of Bohai Bay's surface had been contaminated, with 870 square km seriously polluted, meaning it is unfit for swimming or aquaculture.
Xun and more than 200 other Hebei sea farmers, who lost large amounts of scallops and sea cucumbers, have retained a law firm to sue ConocoPhillips China. Meanwhile, the State Oceanic Administration is preparing a separate lawsuit for ecological compensation on behalf of the country.
Though not optimistic about the results, legal experts hope the cases can become a landmark in pursuing environmental justice through the Chinese courts. They said the absence of an effective cleanup has indicated failure in the country's regulatory instruments in dealing with marine pollution cases.
"Obviously in the case of the Bohai oil spills, polluting companies are not deterred by the government's administrative power, which has always been a major force in tackling pollution problems in China," said Zhou Ke, a law professor at Beijing-based Renmin University of China.
Contained or not?
Ninety days since the leak started at an offshore oilfield in northern Bohai Bay, the country's maritime watchdog and the polluting companies still cannot agree on whether the spill has been fully contained.
The State Oceanic Administration said last Thursday that it had detected 16 leaks under Platform C of Penglai 19-3, still bubbling out oil and gas, while seepage at Platform B has continued.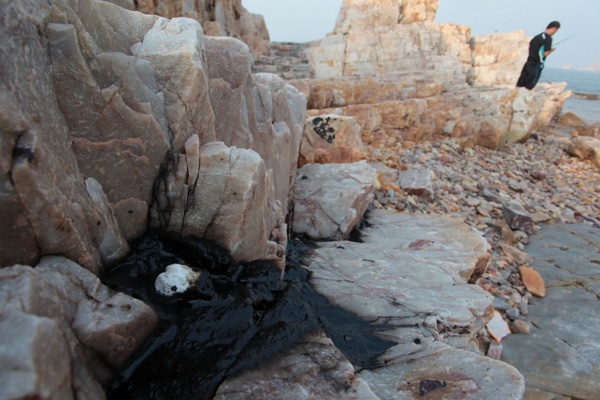 Oil coats pooled water, sand and rocks on the shore at Changdao, a major fish farming island in Shandong province. A leak on an offshore oil platform was discovered in northern Bohai Bay on June 4; this photo was taken on July 8. Official statistics show that 5,500 sq km of the bay's surface have been contaminated. Provided to China Daily 
The American operator, ConocoPhillips China, said on Wednesday evening that it had sealed all leaks. On Monday, it said it had cleaned up 99 percent of the oil-based drilling mud near Platform C.
The administration had no immediate response Wednesday.
They also disagree on the spills' ecological impact, with ConocoPhillips insisting no coastal areas have been polluted.
State-owned China National Offshore Oil Corp, which holds 51 percent of the joint venture with ConocoPhillips, has largely remained silent and has dodged public criticism.
Such discrepancies epitomize the prolonged wrangling between the maritime authority and powerful oil companies as the worst marine ecological accident in China unfolded over the past months.
Law professor Zhou said the ultimate reason behind the disputes lies in the fact that marine environmental protection is never listed as a priority in maritime development, at least in the legislative process, despite increased exploitation of marine resources over the past decade.
"When the Law on Islands Protection was drafted several years ago, some scholars proposed that environmental protection should be given a top priority in development of the uninhabited sea islands. Unfortunately, such a concept was never adopted," Zhou said.
One implication is that the marine environmental watchdog finds itself at a disadvantage when dealing with expensive industrial projects such as offshore oil drilling, he said.
No teeth, no muscle
The maritime authority itself cites the lack of stringent punishment as a reason that ConocoPhillips did not effectively mobilize a cleanup. The administration announced at its first briefing after the spills that the maximum penalty for marine pollution is 200,000 yuan ($31,350), according to the country's law.
An unnamed official from the administration said in an interview with Xinhua News Agency on Aug 11: "The company is too well aware of Chinese laws and regulations under which it won't be severely punished for its inaction and coverup."
In some offshore projects, such as oil and gas exploration, the maritime authority also finds itself without the technical support it needs for proper oversight, according to Gao Deli, a professor at China University of Petroleum. "The oil drilling companies are actually the controllers of the cutting-edge technologies, so they usually have a stronger say than the supervising authority."
In China, marine environmental protection is overseen by a department under the State Oceanic Administration, which is not a ministerial-level government agency. As a result, the administration usually feels impotent in the face of other ministries or State-owned companies.
Meanwhile, several other government departments, such as the ministries of agriculture, transportation and environmental protection, as well as the navy, are also involved in managing the marine aquaculture maritime administration, coastal pollution prevention and marine surveillance.
The scattering of responsibilities among government agencies weakens overall management capability, experts said.
A month's delay
Although China has laws and regulations on marine environmental protection, they are still quite vague on the roles and obligations of different government bodies, according to Li Tao, an official from Fujian's provincial oceanic and fishing department.
"This usually results in slow responses when an emergency happens and in the failure to release information to the public," Li said.
Most public anger was directed at what people saw as ConocoPhillips' arrogance, but some environmentalists also faulted the State Oceanic Administration for hiding critical information from the public. It did not release any news about the spills until July 5, a month after the leak started.
"Even after that, the administration still failed to publish critical information that could help to prevent further economic losses for sea farmers - for instance, the type of crude oil produced at Penglai 19-3 and the route of ocean currents," said Wang Yamin, an associate professor in the Marine College at Shandong University.
The coastal areas along Bohai Bay are home to the country's most important fisheries. "If the sea farmers were informed of the oil spills, they could have made better preparation and even avoided some of the losses. Regretfully, they received no such warning at all," Wang said.
Wang said the available information on crude oil in Bohai Bay suggests it is high in acidity, which can severely damage scallops. And sea cucumbers are prone to diseases if the seawater has an abnormal concentration of an oily substance.
The evidence
Even with such scientific backing, Xun Shaobin and his fellow villagers still face considerable difficulties in gathering evidence and proving the cause of the damage when taking the polluters to court.
"The sea cucumbers dissolved into liquids very quickly after death, making it almost impossible to collect the proof of the damage caused by oil spills," Xun said. "I took some pictures, and hope they will be useful in court."
ConocoPhillips insists the leaked oil never reached the coast. The company has argued that among 86 samples taken along the northwest Bohai Bay shoreline, only two tested positive for traces of Penglai crude.
Calculating the damage poses another major challenge in the litigation process, legal experts said.
The Ministry of Agriculture has a regulation on how to compute losses in the fishing industry, which is feasible to calculate despite the complexity, Wang said. He estimated the total damage at about 1 billion yuan.
"Yet this is only a small part of the whole damage to the marine ecosystems and resources," he said. For other elements in the ecosystem - for instance, sea birds and the water - there is still no mature methodology for calculation in China.
Taking the chance
A similar case seeking ecological compensation in Bohai Bay in 2002 failed after a prolonged lawsuit. The court did not support the State Oceanic Administration when it claimed more than 100 million yuan in economic and environmental damage from a foreign oil tanker, which dumped a few hundred tons of crude oil into the Bohai Sea.
Nevertheless, resorting to legal solutions offers a last chance for victims of the oil spills, lawyers said. And the cases, if successful, could provide a landmark in tackling the country's rampant pollution with legal means.
"Extensive public pressure will offer a solid foundation for arriving at an impartial judgment in the court," said Zhou, from Renmin University. But he's not expecting a triumph.
"To call it a major victory, the oil spill cases will have to be able to break up the entrenched interests among government bodies and State-owned enterprises," Zhou said. "With protection from the government, some large companies can often be immune to punishment when causing severe pollution."
The lawsuits will also ask the court to rule without being influenced by any level of government, and for judicial officers to work diligently and creatively to make up for the imperfections in the environmental legal systems, he said.
"It remains a huge challenge to make the cases a real milestone, but such attempts will help to improve the country's judicial system in the pursuit of environmental justice," Zhou said.