One plus 16 is a winning combination
By Yan Yiqi and Shi Xiaofeng ( China Daily Europe )
Updated: 2014-07-04 08:09:31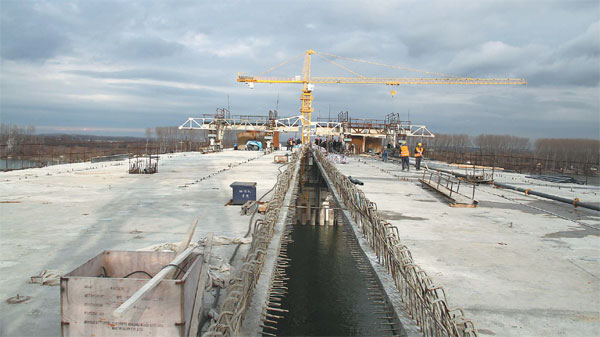 Workers from China Road and Bridge Corporation build a bridge across Danube in Belgrade. Wang Hui / Xinhua
China opens $10 billion credit line for eastern Europe, and 30 trade delegates visit in a year
China's desire to work more closely with Central and Eastern European countries, reaffirmed recently, covers many fields, one of the main ones being infrastructure building.
China's Minister of Commerce, Gao Hucheng, has said greater effort will be put into Chinese companies working in the field.
"In Central and European countries there is market demand, and in China there are companies with the requisite know-how and equipment, so we can both be winners out of this," Gao says.
Nevertheless, China's ambitions cover more than just building infrastructure.
At a conference on trade and economic cooperation in Ningbo, Zhejiang province, on June 8, economic ministers from China and 16 Central and Eastern European countries agreed to work more closely together in many fields.
A greater role is expected for infrastructure building in the region, including ports, railways, roads and telecommunications. Infrastructure that Chinese companies are working include: a bridge over the Danube River in the Serbian capital, Belgrade, that will be completed in October; a coal-fired power station at Stanari, Bosnia and Herzegovina, due to be completed next year; and two highways with a total length of 100 km in Macedonia, work on which began this year.
Chinese working groups have also visited Hungary, Romania, Slovakia and Slovenia to look at potential railway and port construction projects.
China's collaboration with the region has picked up since September 2012, when the Secretariat for Cooperation between China and Central and Eastern European Countries was set up.
As part of China's going global policy, a $10 billion line of credit has been made available to the region, and the country has sent more than 30 trade promotion delegations to the region over the past year.
Rising Chinese investment in infrastructure building in Central and Eastern Europe is in line with a plan formulated in 2009 by Xu Shanda, former director of State Administration of Taxation, to deal with the country's falling exports.
The essence of the plan is to transfer China's overcapacity in infrastructure building to countries that lack experienced contractors and funds.
Cui Hongjian, director of European studies at the China Institute of International Studies in Beijing, says Central and Eastern Europe is a major emerging market with several medium- and long-term prospects.
"The China-CEE alliance is a good fit because the CEE needs overseas investment to improve infrastructure, transport and energy sectors."
On the other hand, China is looking for places to which it can channel its overseas investment.
"If both sides can seize the resulting opportunities, there is no doubt that this economic cooperation is going to be very fruitful," Cui says.
Mile Janakieski, minister of transport and communications of Macedonia, says the country, as the first CEE country to use the special project loan provided by China, has benefited greatly from China's support.
Last year Sinohydro Co was the successful bidder in a tender to build two highways in Macedonia, costing a total of $870 million (540 million euros). The Export-Import Bank of China provided 90 percent of the funding and Macedonia the rest.
"We are very happy with the two highways the company is building," Janakieski says. "Two more are about to be built this year, and investors in Macao have already shown interest."
China and Macedonia are also in talks on building a hydro power station in the country, he says.
"In Macedonia, Chinese investment is very welcome."
At the same time, Slovenia is in the process of privatizing its infrastructure. Marjan Hribar, director of the internationalization department in the Slovenian Ministry of Economy, says that during privatization, Chinese companies may become major shareholders of ports, airports and other infrastructure in the country.
China Southern Airlines has expressed interest in buying a 75 percent share of Ljubljana Airport in the capital, he says. The successful bidder, to be decided in September, is required to build a new terminal building.
Hribar says that apart from the airport project, Chinese companies have also expressed interest in buying a 60 percent share of the Mediterranean port of Koper. It offers a route for ships sailing from the Far East to Eastern and Central Europe through the Suez Canal, Hribar says.
"Ships sailing between China and Western Europe that use Koper will save at least two days compared with sailing to Rotterdam."
Hribar says Slovenian authorities have been in contact with Chinese companies for several months and they are sure Chinese companies will bid for the port.
"We also expect more Chinese investment in fields like power stations and telecommunications."
However, not all 16 CEE countries are keen on Chinese investment in building their infrastructure.
Jan Mladek, the Czech Republic's minister of industry and commerce, says this particularly applies to building roads and power stations.
"The market in our country is already at full capacity, so I don't think it is easy for Chinese companies to operate in these fields here."
Instead, his country would like Chinese companies to invest in its manufacturing, he says.
"We would like to see more Chinese companies in the Czech Republic, not only because the single market is large, but also because by investing here you are entering the European Union. We are focused on how our manufacturing is progressing, and would like to see Chinese investment make these sectors even stronger."
Andrezj Dycha, undersecretary of state in Poland's Ministry of Economy, says that in his country, too, it would be difficult for Chinese companies to invest in building infrastructure.
"All the infrastructure construction projects in Poland need to go through a very strict international bidding process. Chinese companies would face very fierce competition."
China Overseas Engineering Group has an unhappy experience in building infrastructure in Poland. In 2012, after having earlier won a road building contract, it was forced to retreat after disputes over pricing.
Cui of the China Institute of International Studies says that while investing in the CEE countries is a shortcut to entering the EU, Chinese companies need to be prepared for the strict regulations in force.
Contact the writers through yanyiqi@chinadaily.com.cn
(China Daily European Weekly 07/04/2014 page8)

We will not give up search, Li vows
International hunt for missing airliner continues after fruitless six-day search