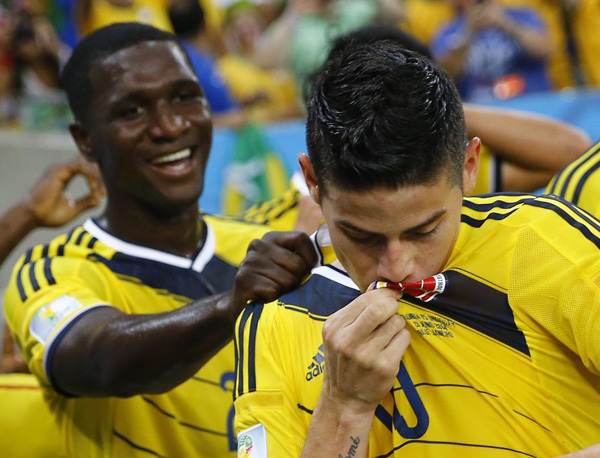 Colombia's James Rodriguez (R) kisses his jersey after scoring a goal against Uruguay during their 2014 World Cup round of 16 game at the Maracana stadium in Rio de Janeiro, June 28, 2014. [Photo/Agencies]
The man trying to ruin Brazil's World Cup run and overshadow its anointed hero is so new to soccer stardom that he doesn't even get his name pronounced correctly by play-by-play commentators.
However, the biggest conundrum about Colombia's James Rodriguez isn't whether you should say his first name like "Jay-mz" or "Ham-ez." No, the far more pertinent question is how can it possibly be that he stayed under the radar for so long? A World Cup is a boiled down affair of intense focus, so much so that a handful of whirlwind performances on the grandest stage of all can falsely inflate a player's reputation.
Even with that in mind, though, Rodriguez (now known universally as James, the moniker he wears on his shirt back, with the correct Ham-ez pronunciation) is a genuine star. He looks every bit the real deal, a contender for player of the tournament, and the main reason why many suspect host nation Brazil might be in danger of elimination in Friday's quarterfinal in Fortaleza.
The individual attention foisted upon Rodriguez, who plays his club soccer for Monaco in the French league, might have been greater than for any other player over the past week apart from local golden boy Neymar, the face of expectation for a hungry country.
Rodriguez has been an icon in Colombia for a minute and more, and to a lesser extent in France since Monaco bought him from Portugal's Porto for $61 million just under a year ago.
Yet even that huge transfer did not catapult him into the global mainstream, perhaps a result of France's Ligue 1 being somewhat lower on the totem pole than other competitions such as Spain's La Liga or the English Premier League.
Back home in Colombia, they love him in the kind of way that young, wealthy and ludicrously talented athletes tend to get loved, and his face adorns a small range of commercial products ranging from shampoos to soft drinks, as well as adidas. By comparison, a Brazilian newspaper recently counted 17 companies that sponsor Neymar, but hey, the boy with the golden hair has had a few years' head start in the spotlight on the fellow 22-year-old in the golden shirt.
One of soccer's more obvious but grotesquely overused generalizations is that it is a team game, not an individual one. In this case, though, the tired old cliché might apply a little less than usual.