Premier Li looks to advance RCEP negotiations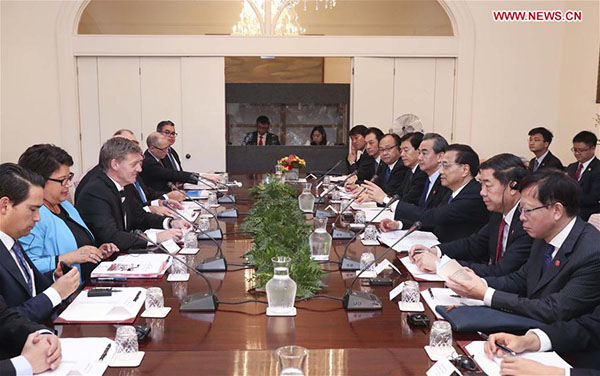 Chinese Premier Li Keqiang (3rd R) and his New Zealand's counterpart Bill English (3rd L) hold talks in Wellington, New Zealand, March 27, 2017. [Photo/Xinhua]
Premier Li Keqiang called for consensus over the ASEAN-initiated Regional Comprehensive Economic Partnership to boost free trade when he met with New Zealand Prime Minister Bill English on Monday in Wellington.
In response to English's question on RCEP and the Trans-Pacific Partnership, Li said China believes that free-trade arrangements, bilateral or multilateral, should comply with WTO rules on the basis of which multiple arrangements can work together and complete each other.
"The basis for consensus is there and conclusion of the RCEP negotiations is well within reach. We can prove it to the world that the Asia-Pacific region stands solid behind regional economic integration and free trade," Li said.
"We are open to all free-trade arrangements, including the TPP," the premier said. "Meanwhile we should throw out weight behind arrangements that promise tangible results to keep the momentum going, with options to go further if possible. The China-New Zealand FTA and its upgrading negotiations is a case that leads by example."