China, New Zealand agree to start talks on upgrading FTA in late April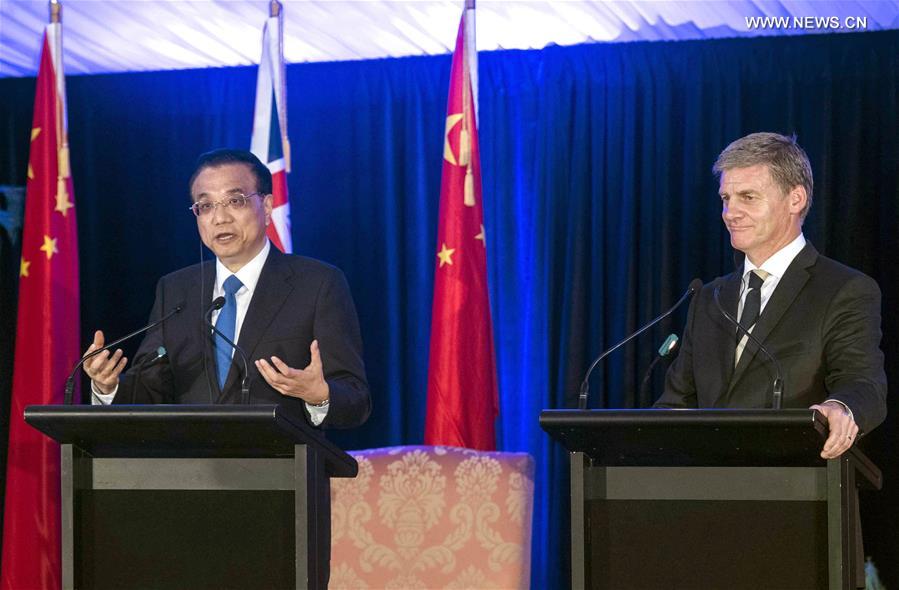 Chinese Premier Li Keqiang (L) and his New Zealand's counterpart Bill English attend a joint press conference after talks in Wellington, New Zealand, March 27, 2017. [Photo/Xinhua]
WELLINGTON - China and New Zealand agreed to start talks on upgrading a bilateral free trade agreement (FTA) in late April.
The consensus was reached during Chinese Premier Li Keqiang's ongoing visit to New Zealand, which puts upgrading the FTA that took effect in 2008 high on agenda.
At a joint press conference after talks with New Zealand Prime Minister Bill English, Li said upgrading the FTA will promote the development of bilateral economic and trade ties and better benefit the two peoples.
Negotiations will touch on investment, service trade, quarantine of animals and plants, the Principle of Original Production Place, economy and technology, e-commerce, and competition policies, according to Chinese Ambassador to New Zealand Wang Lutong.
"The China-New Zealand FTA is one of the highest-standard signed between China and developed countries. Both countries have established long-term good trade relations, with bilateral trade growth outpacing our economic growth," Li said.
Li also called on the two countries to jointly protect open economy and free trade as well as regional stability and global peace.
As one third of New Zealand's dairy products are exported to China, English said the dairy products and any other products going to China will be of the quality Chinese consumers would expect to be.
Under the FTA, a wide range of products, typically health-related products are much sought after by Chinese consumers, English said, adding that New Zealand will work with the Chinese authorities in food safety to ensure all the New Zealand products exported to China meet the standards required.
China and New Zealand signed a series of cooperation documents on Monday, including an action plan for cooperation on climate change, granting new access for New Zealand chilled beef and meat to the Chinese market and deepening cooperation on the Belt and Road Initiative.
Li arrived in Wellington on Sunday for an official visit to New Zealand after wrapping up his Australia tour.