Li arrives in New Zealand; China seen as key partner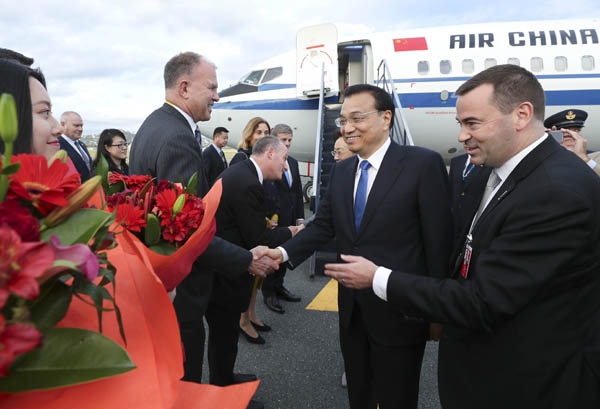 hinese Premier Li Keqiang shakes hands with John McKinnon, New Zealand's ambassador to China, at Wellington International Airport on Sunday. Li began an official visit to New Zealand at the invitation of his counterpart, Prime Minister Bill English. [Photo/Xinhua]
Free trade upgrade talks get underway in 2nd quarter
Premier Li Keqiang arrived in Wellington on Sunday to start a four-day visit to New Zealand after his trip to Australia last week, the first such trip by a Chinese premier in 11 years.
Li and his New Zealand counterpart, Prime Minister Bill English, will hold talks to discuss a range of issues and be on hand as cooperative documents are signed. Li also will fly to Auckland to meet with business leaders on Monday before heading back to Beijing.
"Premier Li's visit marks the 45th year of diplomatic relations between China and New Zealand. ... I look forward to discussing with him opportunities for our two countries and the region," English said on his official website.
In 2009, Li visited New Zealand as vice-premier at the invitation of English, then New Zealand's deputy prime minister. The two countries have maintained frequent high-level exchanges as former New Zealand Prime Minister John Key was received by Li in Beijing last year.
China is New Zealand's largest trading partner. In addition, more than 400,000 Chinese tourists visited New Zealand last year and nearly 35,000 Chinese students are now studying in the island country.
John McKinnon, New Zealand's ambassador to China, said in an exclusive interview with China Daily that his country is pleased to welcome Li during a very significant time, as China has just concluded the National People's Congress, one of the nation's most important political events.
"Premier Li has been a strong supporter of globalization and international trade. Those are all elements which are very important for New Zealand, so New Zealand is welcoming him as the premier of China but also very interested to talk to him about the progress and our trade and economic relationship, particularly the upgrade of the free trade agreement," McKinnon said.
The ambassador said New Zealand expects the first detailed discussions of the upgrade, which are very important in the bilateral relationship, will take place in the second quarter of the year. More broadly, he said New Zealand welcomes those voices from China, because New Zealand is an open economy and China is now its largest trading partner.
"They will lay out a pathway ahead for the upgrade of our free trade agreement, but also in the whole of other areas where we have seen expansion of China-New Zealand relations in recent years," McKinnon said.
The ambassador said both countries are expected to further promote cooperation in education and tourism as the number of Chinese students and tourists has seen a huge growth over the past few years.
"We will continue to welcome Chinese tourists and encourage them to travel to other parts of New Zealand beyond our most popular destinations such as Auckland. We want Chinese tourists to come to parts of our country with plenty of interesting things to see, including places where the film (Lord of the Rings) was filmed," he said.