Rapping teacher spreads the word about Mandarin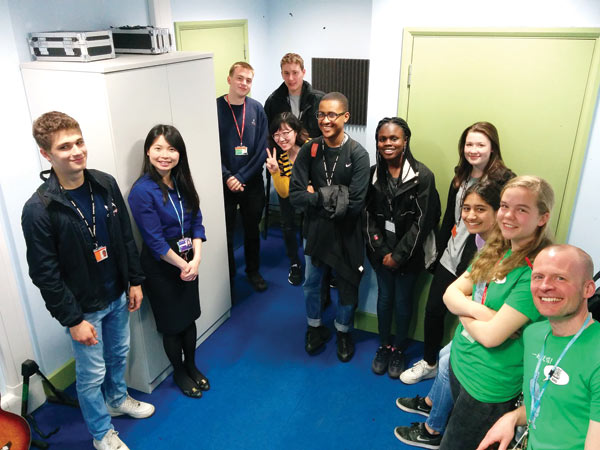 Staff and students at Fortismere School in North London are finding new ways to learn Mandarin. [Photo/China Daily]
Mandarin can be a massive challenge for people trying to pick it up as a second language but a London teacher has introduced a novel way to teach it-by rapping in Chinese to make classes both memorable and fun.
Adam Moorman, a Chinese language teacher at Fortismere School in North London, said rapping makes things easy to remember, and Chinese has a good rhythm, so it is natural to combine them.
"As Chinese words are monosyllabic, and there's a very limited number of sounds in Chinese, many words rhyme with each other. If you discount tones, there are about 400 sounds in Chinese, compared with more than 10,000 in English, so it's more easy to come up with rhymes in Chinese than in English," he said.
Moorman first got his class to rap in Mandarin as a way to prepare students for their speaking exams. He said rap made it easier to memorize longer pieces of text. Writing and performing rap gives students motivation to find new ideas, learn new words, and express their meaning. Rapping requires students to be creative and independent, all of which helps fluency.
Tamzin Sherzad, a sixth-form student at Fortismere, likes the new way of learning.
"Through the process of creating rap lyrics, I have familiarized myself with so many new, popular phrases and I feel that I have really extended my vocabulary of the modern language Chinese young people use," she said.
As a result, Sherzad feels more confident chatting with her Chinese friends and feels more prepared and excited about her gap year in China.
Moorman said that introducing rap to sixth-form students improves their fluency "by combining rhythm, rhymes and repetition in an enjoyable and memorable way that shifts the focus from painstaking book-based learning, but achieves the rewards of independent research, drafting and practicing".
Keisha Asare, another student who has studied Mandarin for five years, said: "In order to write the rap I had to learn and search for new vocabulary that I otherwise would not have known. The raps are also very catchy and this makes it easier to remember the new phrases and vocabulary that I learned."
With the funding he recently won from the London Teacher Innovation Fund, which is financed by the Mayor of London and run by education charity Shine, Moorman launched the Mandarin Rap Podcast to help students learn Chinese with rap.