The challenges of learning Mandarin in London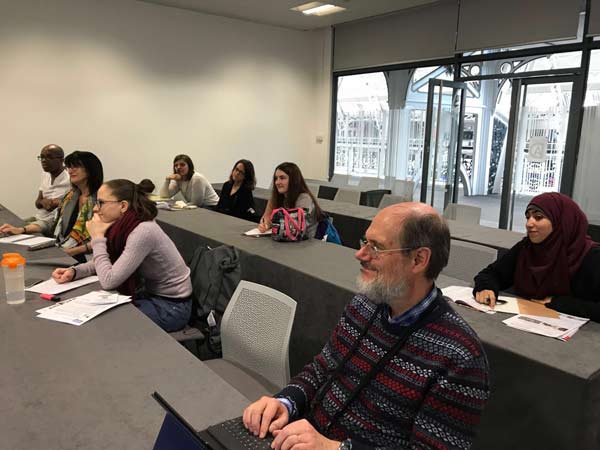 Students having Mandarin class at the Language Show London held in London, Oct 14, 2017. [Photo/chinadaily.com.cn]
If you go into a Chinese tailors shop looking for a suit but ask for a wife by mistake instead, you need to improve your Mandarin language skills (because in Chinese pinyin "xi fu" can mean either "suit" or "wife", depending on the tone you use).
One of the first things students of Mandarin need to learn is the importance of tones, otherwise words that appear the same in pinyin will have a totally different meaning, according to Li Jing, a teacher from the Confucius Institute for Business London.
She was teaching the basics of Mandarin to students at the Language Show London held last weekend at the Business Design Centre in Islington.
Li, who has been teaching Chinese for more than 20 years, used the example of the man who entered a shop looking for a suit but instead requested a wife.
She showed her students what Mandarin is like by teaching pinyin, characters, and some Chinese culture. She normally teaches business Chinese to students with a background in banking and finance.
"I feel like it's becoming a trend, especially for young people in the UK," said Li. "As China is prospering, they are tempted to do business so now it's important to add more Chinese business culture into their language studies. For example, how to make business deals or how to negotiate with Chinese people."
In a class for beginners, Li introduced the pinyin, four tones, structure of characters, some simple greetings, and ended with pictures of Peking opera masks and Chinese food.
She hoped that this class would help arouse her students' interest in learning more about Mandarin and the Chinese culture.
"I really would like to break the stereotype that Mandarin is very hard and boring to learn, and also let them know that China is developing very fast and we all welcome them to make more investment there," she said.
Hugh Beyer, a freelance translator from Coventry, attended the class.
He has spent several years learning Mandarin on the internet but this was his first official Mandarin class.
"Coventry attracts a lot of international students, especially Chinese students, and I just find those people so interesting to talk to," Beyer said. "I translate from German, Dutch and Russian but Chinese is something very different."
He said he has to "think my thoughts back to front" and find the characters difficult to memorise. "But I very much enjoy the challenge of doing something completely outside the European family," he explained.
Sarah Coote, 29, who works for a language software company in London, was also in the class.
She said she was trying to get more exposure to a new language and was impressed by Mandarin.
"I speak five languages and I'm learning Portuguese, Hindi and Japanese, and now I'm just curious about what Mandarin is," she said. "The Chinese characters and the tonal variations are quite challenging, because that's a very foreign concept, but enjoyable and it's good to see the aspect of culture as well in the class."
The Language Show London is Europe's biggest event for language learners, teachers and linguists.
Zhang Yangfei in London contributed to this story.