Chinese female peacekeeper wins UN award in S. Sudan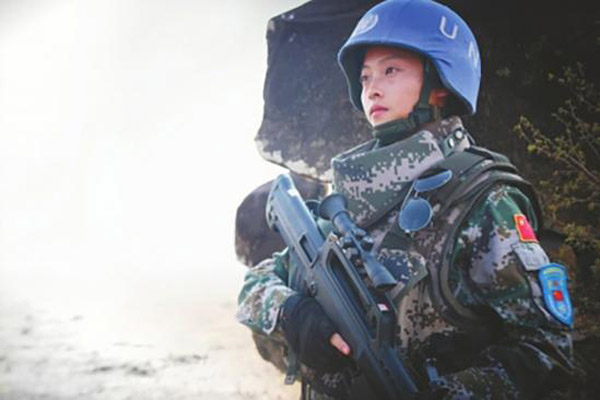 Zhang Qin is on duty. [Photo/Western China City Daily]
Zhang Qin, a female soldier of Chinese peacekeeping force in Juba, capital of South Sudan, was awarded honorable medal of peace, along with her comrades in arms, by the UN officials on Oct 4.
Schumacher, deputy special representative of UN Mission in South Sudan, highly appreciated China's support for UN peacekeeping operations and expressed his gratitude to the female peacekeepers' contribution to the peace in South Sudan.
Zhang Qin studied in Chengdu University and majored in radio and television before enlisting. She always wanted to join the army and enlisted during her sophomore in 2013.
She wrote in her diary: "My dream has come true, and it makes me realize if one thing is your true love, you have to experience it by your own, then you can know what on earth the dream means."
"I will stay true to my original self and fulfill my dream," she added.
Zhang is proficient in shooting, thread connection, climbing and other military skills, and is also fluent in English, Arabic, Japanese.