Saudi-led airstrikes destroy air navigation system of Yemen's capital airport: spokesman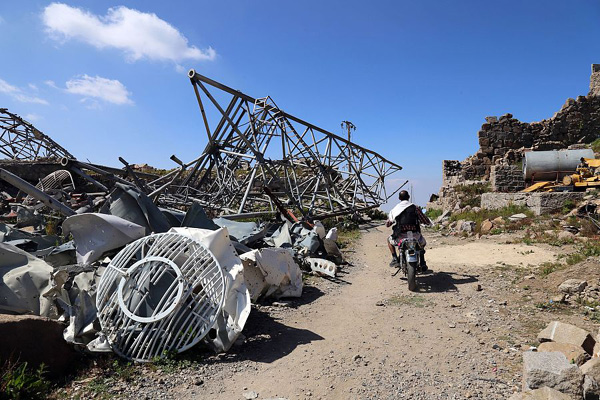 A picture taken on November 14, 2017 shows a Yemeni man driving a motorcycle past a communications tower that was destroyed in Saudi-led air strikes on the city of Taez. [Photo/VCG]
SANAA - Saudi-led coalition launched three airstrikes on the main civil airport north of Yemen's capital Sanaa on Tuesday, completely destroying the airport's air navigation system, the airport's spokesman Mazin Ghanim told Xinhua.
"The air navigation system was totally destroyed by airstrikes, and a technical engineering team is studying possibilities to provide the airport with an alternative system," Ghanim said.
"Now the airport is unable to receive UN aid-suppling planes," he added.
Pictures obtained by Xinhua from the spokesman showed a large destruction at Sanaa international airport.
The coalition has forced the closure of Sanaa airport for more than a year now, but permitted United Nations aid-suppling planes.
The coalition of 10 Arab countries led by Saudi Arabia and backed by the United States intervened in Yemen's conflict in March 2015 to recapture territories including the capital Sanaa from Iran-aligned Yemeni Shiite Houthi rebels.
The coalition seeks to reinstate internationally-recognized Yemeni government of exiled President Abd-Rabbu Mansour Hadi, who was forced by Houthi rebels into exile in neighboring Saudi Arabia.
Saudi's official media blamed its regional foe Iran for supporting the Yemeni rebels with long-range ballistic missiles. Iran has denied the claim.
On Tuesday, Yemen's airline said a commercial plane landed at Aden international airport after acquiring permits from the Saudi-led coalition.
Tuesday's move to ease the blockade came three days after the coalition reopened Aden seaport and Alwadiah land border crossing between Saudi Arabia and northeast Yemen, but the coalition has kept the Houthi-controlled northern ports shut.
The UN aid agencies said the coalition's move to ease the siege was not enough, and warned of mass famine and health catastrophes in Yemen's north.