Lucky money comes up trumps with Year of the Dog release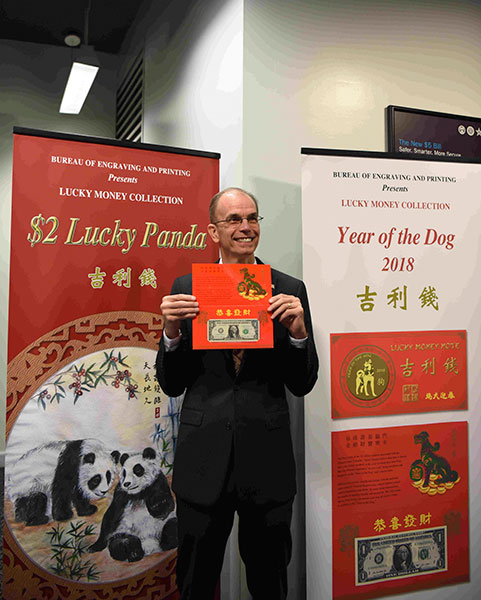 Leonard Olijar, director of the US Bureau of Engraving and Printing, holds a Year of the Dog 2018 product at a news conference on Tuesday. CHINA DAILY
Leonard Olijar, director of the US Bureau of Engraving and Printing, seemed pretty happy on Tuesday morning as he announced the release of the bureau's Year of the Dog 2018 product to celebrate the upcoming Chinese Lunar Year of the Dog.
It is the latest addition of the bureau's Lucky Money Collection products first introduced in 2000.
"I am especially excited to introduce this product, because I was born in the year of the dog, which tells you a little bit about how old I am," Olijar said, adding that President Donald Trump was also born in the Year of the Dog.
"Dog carries traits of loyalty and honesty. Those born with the dog sign are extremely friendly, faithful, smart, industrious and have a strong sense of responsibility," he said.
The "Dog" is one of 12 zodiac signs associated with the Chinese Lunar Calendar. The Chinese Lunar Year of the Dog in 2018 falls on Feb 16 of the Western calendar.
In the last century, those born in the Chinese Lunar Calendar of 2018, 2006, 1994, 1982, 1970, 1958, 1946, 1934 and 1922 and 1910 carry a "Dog" sign.
The Year of the Dog 2018 product is designed with decorative Chinese symbolism and is packaged in a symbolic, red folder with embossed, gold foil.
This product features an uncirculated, $1 Federal Reserve note with a serial number beginning with"8888", the number Chinese associate with luck and fortune.
108,888 units
Sale of the product was scheduled to begin on Wednesday, at $5.95 each. A total of 108,888 units will be available for sale, registering an increase from the previous years in order to satisfy the demand of the Asian-American community according to Olijar.
There will be a discount for bulk sale but a limitation of 250 units will be imposed for the first week of release for household quantity purchase. Since 2000, the bureau has introduced 29 Lucky Money products and sold 2 million units. The last 25 products all sold out.
"I expect this one to be sold out as well," Olijar said.
chenweihua@chinadailyusa.com