President visits with longtime Laotian friends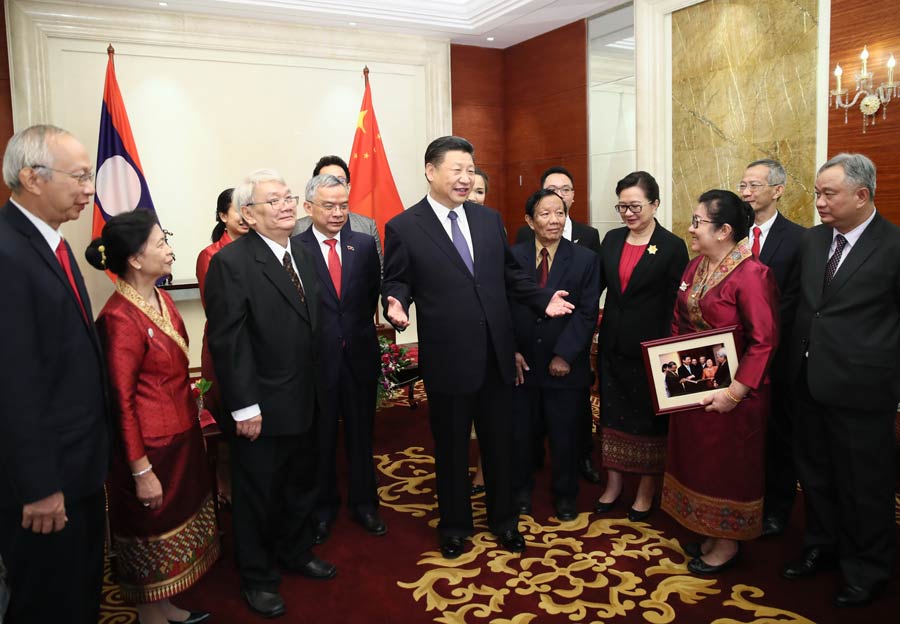 President Xi Jinping talks with the family of the late revolutionary leader Quinim Pholsena at Xi's hotel in Vientiane, Laos, Nov 14, 2017.[Photo/Xinhua]
President Xi Jinping, on a state visit to Laos, met on Tuesday with a Laotian family that he had come to know as a teenager when he went to school with some of them in Beijing.
Xi spoke with children and grandchildren of the late Quinim Pholsena, a revolutionary leader who was foreign minister of Laos from 1962 to 1963. Several of Pholsena's children lived and studied at Bayi School in Beijing in the 1960s, when Xi also was a student there.
During their informal talk, Xi recalled that he had met his Laotian peers in sixth grade. He said he was impressed with how well they were dressed, with the boys in brown corduroy trousers and the girls often in elegant traditional dresses.
In a lighthearted moment, Xi said he remembered that Pholsena's second son was nicknamed Chubby Boy.
Xi said that Pholsena had established revolutionary friendship with Chinese leaders of the time, including the late Chairman Mao Zedong, adding that China-Laos friendship has lasted for generations and become unbreakable.
China's acceptance of the Laotian revolutionary family demonstrated that the older generation of leaders of both sides had the strategic and visionary idea of boosting bilateral friendship, Xi said.
In May 2014, China celebrated the 60th anniversary of its public diplomacy organization, the Chinese People's Association for Friendship with Foreign Countries. To mark the event, Pholsena was chosen posthumously as one of the nine foreigners who represented friendly exchanges during the 60 years of the Chinese public diplomacy organization.
The president called on the people of both sides to stay true to their aspirations and make more contributions to building the community of a shared future of China and Laos.