President visits with longtime Laotian friends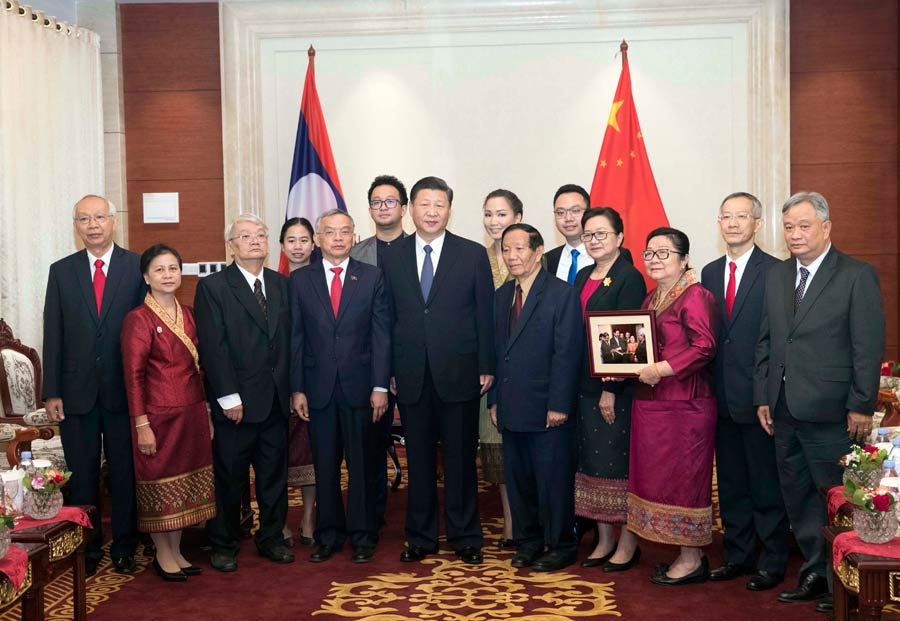 President Xi Jinping, also general secretary of the Communist Party of China Central Committee, meets with members of Quinim Pholsena family which has a time-honored friendship with China in Vientiane, Laos, Nov 14, 2017. [Photo/Xinhua]
Xi spoke of China's ambitious plan to lift the country's rural poor out of poverty by 2020, saying that it is critical for the Communist Party of China's goal of building a moderately prosperous society in all respects.
Xi also recalled meeting with the family members in 2010, when he was on a visit to Laos as vice-president. He gave them a photo of his meeting with the Laotian family in 2010. Xi received, in turn, a collection of photos about Quinim Pholsena and his family members' interaction with Chinese leaders.
Pholsena's son Sommath Pholsena told Xi that his family felt deeply moved by Xi's comments on the contributions of his father in promoting Laos-China relations.
Sommath Pholsena, who is Laos' minister of natural resources and environment, became teary-eyed as he spoke to Xi. He said his family could feel Xi's affection for them and they were moved that Xi mentioned them in a signed article published on Monday.
"The descendants of Quinim Pholsena studied for many years in China. They spent their youth in China, and became witnesses, supporters and new advocates of the China-Laos traditional friendship," Xi said in the article published by Laotian media ahead of his state visit.
Sommath Pholsena told Xi that his family members will keep in mind Xi's words of "staying true to our original aspiration and remember our mission" and make continuous efforts to boost Laos-China friendship.
The minister noted China's remarkable achievements in the past five years and gave his congratulations on the success of the 19th National Congress of the CPC and Xi's re-election as the general secretary of the CPC Central Committee.