Several blasts heard in Zimbabwean capital, coup 'denied'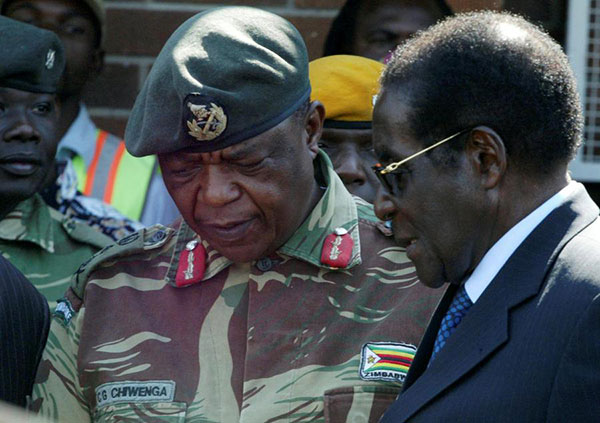 Zimbabwe's President Robert Mugabe talks to General Constantino Chiwenga in Harare, Zimbabwe, July 4, 2008. [Photo/Agencies]
HARARE - Several loud explosions were heard in central Harare early Wednesday, two days after the military threatened to "step in" to end the country's political crisis, but Zimbabwean military officers denied that they were launching a coup.
Zimbabwean military officers announced on state TV early Wednesday that they were not taking over the government, but "targeting criminals around" President Robert Mugabe.
Mugabe and his family were safe and their security was guaranteed, the officers read the statement live on state TV, saying they were accomplishing "their mission".
According to reports, soldiers were deployed across the Zimbabwe capital and seized the state broadcaster, after Mugabe's ruling party accused the chief of the military of treason.
Gunfire was heard near Mugabe's private residence, the reports said.
Mugabe last week fired Vice-President Emmerson Mnangagwa, his political ally for more than 40 years, on allegations of disloyalty and deceit.
Zimbabwean army commander Constantino Chiwenga issued a statement on Monday, saying purges against senior ruling party officials should end "forthwith."
Zimbabwe's ruling ZANU-PF party on Tuesday condemned the "treasonous" statement by Zimbabwe Defense Forces Chief Constantino Chiwenga, who threatened military intervention in the party's factional fights.