Harry Potter's Hogwarts Express rescues family stranded on Scottish adventure trip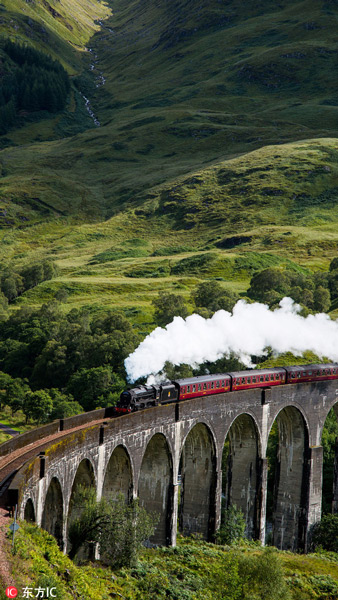 Hogwarts Express runs on the Glenfinnan viaduct in the West Highlands of Scotland. [Photo/IC] 
LONDON - A family stranded on an adventure trip in a remote area of Scotland have spoken of their magical rescue by the famous Hogwarts Express, the steam train featured in the Harry Potter movies.
The famous steam train came to the rescue when Jon and Helen Cluett and their four young children were stranded during a stay at a remote cottage, known as a bothy, in the Scottish Highlands when their canoe was swept away by a swollen river.
The Cluetts and their children - aged six, eight, 10 and 12 were enjoying a half-term break at the Essan bothy, on the south shore of Loch Eilt.
Facing the almost impossible task of a long trek across boggy expanse of land, the family phoned the police for advice.
Instead of using a mountain rescue team or rescue helicopter, the police in Scotland came up with a plan that was pure magic.
Realizing that the family were trapped close to the railway line used in the Harry Potter films, police liaised with the steam train operators and arranged for the train to rescue them.
The train, called The Jacobite, is used for excursions on the iconic West Highland Railway Line, which crosses Glenfinnan Viaduct that also features in the Potter movies.
Jon Cluett told local media and the BBC: "The amazing thing was it wasn't just any train. The next train that was passing was the Jacobite steam train, the Harry Potter, Hogwarts Express steam train that goes up and down that line. We threw all our stuff into some bags and boxes and ran out of the door of the bothy at the same time as the train is coming around the tracks."
Cluett said there were big smiles on the faces of the kids as they saw the Hogwarts Express approaching.
"When the kids saw the steam train coming, all sadness left their little faces and was replaced by excitement and fun, just the real joy of having an adventure and having the train stop right next to them."