Huawei partners with London college to foster technology skills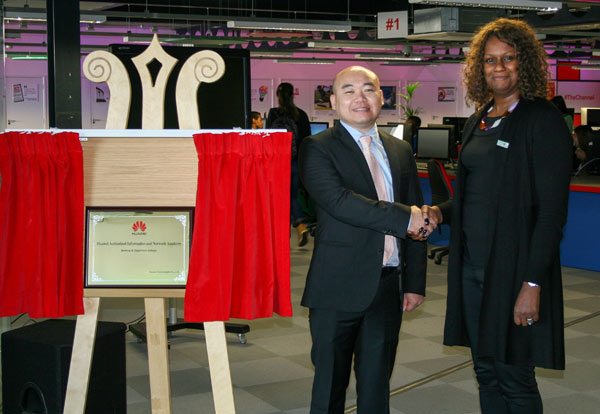 Huawei Launches Authorised Network Academy with Barking & Dagenham College Stanley Lichun Wang, UK Director of Services and Yvonne Kelly, Principal & CEO. [Photo provided to chinadaily.com.cn]
Chinese telecommunications giant Huawei has teamed up with London's Barking and Dagenham College to teach students skills that will help them find work in the information and communications technology sector.
The partners will help students gain academic theory and industry experience in networking technologies, security, cloud computing, IT storage systems, and big data.
The agreement that the two partners signed last week is a part of a worldwide nonprofit initiative at Huawei to share its extensive telecommunications expertise with education partners and help improve young people's grasp of technology skills.
Known as the Huawei Authorized Information Network Academy project, Huawei has already established partnerships with more than 240 universities. "The partners have opened academies throughout China, North America, Europe, and Australia and now collectively train more than 16,200 students globally."
In the United Kingdom, the network has more than 10 partner universities and colleges. The first of the UK partnerships was between Huawei and the Henley Business School at the University of Reading, which was signed in 2015.
Yvonne Kelly, principal and CEO at Barking and Dagenham College, said the institution is excited about the possibilities the partnership offers students.
"The fast-changing nature of technology means that it is crucial for our students to get the best possible hands-on experience to prepare them for future careers in the sector," Kelly said.