China-made train launches subway network in Pakistan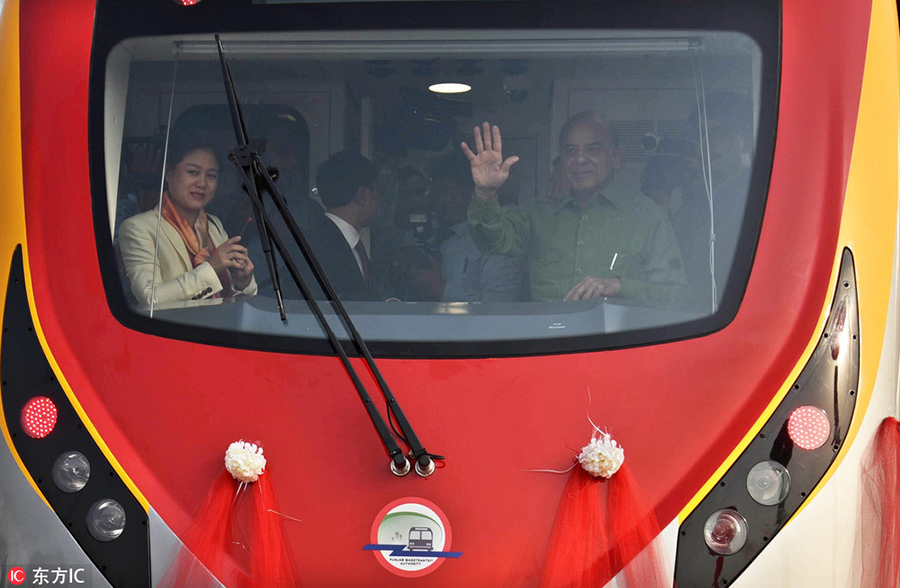 Shahbaz Sharif, Chief Minister of Punjab province, waves from the train during the unveiling ceremony in Lahore, Pakistan, Oct 8, 2017. [Photo/IC]
The first set of China-made subway train was unveiled in Lahore, second-largest city of Pakistan, on Oct 8, 2017, launching the subway system in the country.
Produced by CRRC Zhuzhou Locomotive, the train with five coaches will run on the 25.58 km Orange Line in the city.
It rolled off the production line in Central China's Hunan province this May.
Under the project, 27 trains will be imported out of which 23 will arrive by year-end.
The maximum speed will be around 80 km per hour. Officials said the train can complete the 2.5 hours of journey in 45 minutes.
More than 200,000 commuters will travel daily after the project is completed.
An energy-saving air-conditioning system suitable for the constant high summer temperature and unstable voltage in Pakistan is the showpiece of the design, according to a company engineer. Heat-resistant bogies also increase durability, added the engineer.
The design combines the national flower of Pakistan and the shape of the dome of the Badshahi Mosque, according to a designer of the train.
Xinhua contributed to this story.