China says air force drills with Pakistan 'routine'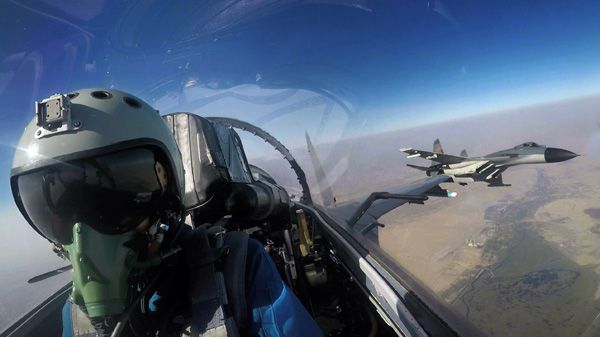 A Chinese pilot during a drill with the Pakistani air force on Sep 20, 2017. [Photo/Xinhua]
The Chinese air force on Thursday dismissed concerns over its ongoing training exercises with the Pakistani air force, saying they were routine drills.
"There's no need for some countries to overact and make a great fuss about it. They need to learn to get used to such drills," said Shen Jinke, spokesperson for the People's Liberation Army Air Force.
It is international practice to hold military exercises, and simulated combat training with foreign armies are necessary for troops of every country to improve their capabilities to safeguard state security and national interests, he said.
The ongoing joint drills named "Shaheen VI" were launched in China on Sept. 7 and will run until Sept. 27.
China has dispatched J-11 fighters, JH-7 fighter-bombers, KJ-200 AWACS aircraft and ground forces including surface-to-air missile and radar troops, while Pakistan has sent JF-17 Thunder fighter jets and early warning aircraft to join the exercise.
The Chinese air force began high-sea training in 2015 and have passed through the Bashi Channel and the Miyako Strait on many occasions.
China's high-sea drills have increased in frequency from four times a year to several times a month currently, which has tested the air force's combat capabilities on the high seas, Shen said.