Bus driver wins patent for tactile paving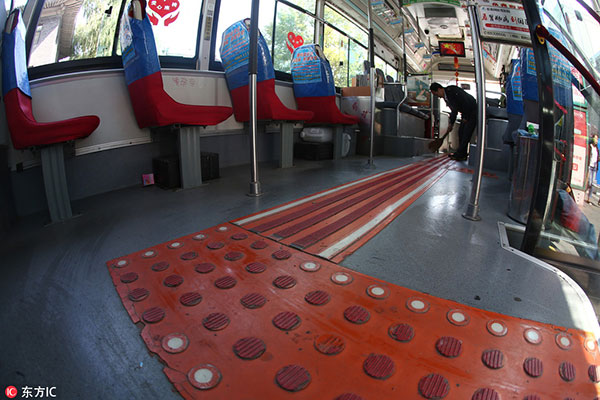 Yang cleans the tactile paving on the bus. [Photo/IC]
Yang Hongtao, a 45-year-old driver in Changchun, Jilin province, spent about 700 yuan ($100) in two months to build a 6-meter-long tactile paving on a bus.
"The bus route has several stops with many passengers getting on and off, including the visually impaired," Yang said.
The tactile paving not only serves the visually impaired, but is also useful as it stops passengers from slipping and injuring themselves. Besides, the paving can glow in the dark, which will make it easier for passengers to walk.
"I've never taken a bus that has such a service for visually impaired. It is both creative and humane," said a passenger.
Apart from the paving, Yang also installed two solar-powered air purifiers, to improve the air quality inside the vehicle.
Both of his designs were awarded with national utility model patents.