Injured SWAT officer's story touches many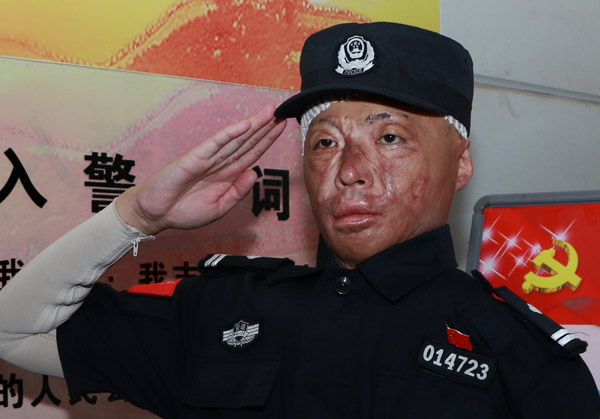 Zhang Jie is recovering from disfiguring burns suffered as he tried to prevent a suspect from igniting fuel tanks. [Photo by ZHU LIXIN/CHINA DAILY]
Zhang Jie, a police officer from Bengbu, Anhui province, said he doesn't regret doing his duty despite being gravely wounded in an explosion set off by a suicidal man nearly two years ago.
On Jan 5 last year, a resident of a six-story apartment building threatened to blow up 10 bottles of liquefied petroleum gas and two gasoline cans in a sealed room to take revenge on society.
When lengthy negotiations failed, the Special Weapons and Tactics team was called to the scene. Zhang, 37, was eating dinner after work, but he jumped up without hesitation, officers said.
"As a member of SWAT with more than 16 years of experience, Zhang was one of the best and wouldn't miss a dangerous encounter," said Sun Hu, head of the Bengbu SWAT team. Such teams often face danger in dealing with matters of public security.
"The suspect was not just threatening to explode the apartment, he really meant it," Zhang said later. "We found that he had sealed all the windows and doors with steel planks."
Five officers were sent to break into the apartment from the balcony - which had been sealed firmly from the inside - and they had to decide who would go in first, Sun said.
Shi Lei, who is younger than Zhang, volunteered to take the lead, but Zhang said no, telling Shi: "You have to be at your wedding in May."
Zhang, who has a daughter, insisted on going first, even though he understood what he could face inside the fortress-like room.
As another officer worked to smash a hole in the door, Zhang removed his heavy clothes so he could enter quickly. When a hole was created big enough for him to pass, Zhang saw that the man inside had opened one of the LPG tanks and a gasoline can. As the man was opening more tanks and lighting a cotton cloth, Zhang rushed in.
But it was too late. The flame ignited the gas and a forceful blast followed, setting both men on fire.
Video recordings made by arriving firemen show that 43 seconds elapsed from the first of six heavy hits on the door until the fire was extinguished - long enough for Zhang to swing toward death. When they found him, he could barely breathe. He was badly burned. The suspect died later. An evaluation from military experts found that if all the explosive material had been released, the blast would have been equivalent to 40 kilograms of TNT - enough to destroy the apartment building and beyond.
"Shooting could have had disastrous results," Sun said. "Besides, the suspect was standing in the corner and protected from gunfire."
Zhang survived, but had to endure dozens of complicated surgeries in the months to come.
On the street, some people stare at his scarred face, which made him nervous at first, but he decided not to hide from strangers. The police opened a social media account on weibo in November and sometimes post recent pictures. Two photos show his face and naked upper body.
"It's been a long time without exercise," Zhang posted." I lost my abdominal muscles and will try to get them back." A smiling, applauding emoji goes with the pictures.
The weibo update has received more than 210,000 "likes" and tens of thousands of reposts and encouraging comments.
Zhang, recently returned to the SWAT team, though he has not completed his therapy. He has been transferred to different hospitals in Anhui and Shanghai for treatment. His story has aroused great compassion from local residents.
"When I was taken from the apartment building, I thought I heard a voice from an old woman saying, "Save the brave man." That gave him encouragement, Zhang said later.
"It was just my duty, I believe other policemen would have made the same decision."



Editor's picks