Engineers make plane into first large delivery drone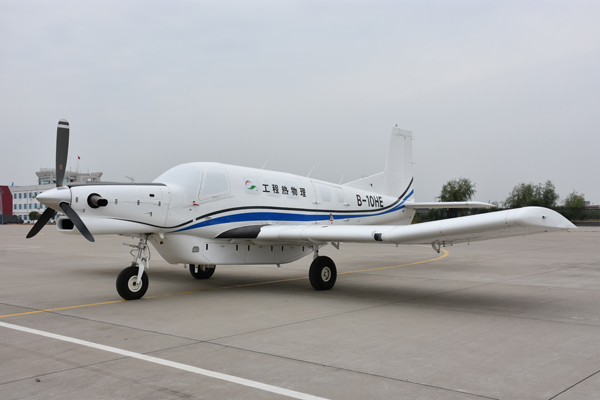 A New Zealand-made aircraft was refitted into a cargo drone. [Photo provided to China Daily]
Chinese engineers have refitted a manned utility aircraft into the world's first large transport drone for one of the nation's largest express delivery companies, according to a leading designer involved in the project.
A PAC P-750 XSTOL turboprop aircraft, built by the New Zealand plane manufacturer Pacific Aerospace, has been modified into an unmanned aircraft and has recently begun conducting taxiing tests, said Chen Xiang, director of unmanned aircraft vehicle guidance at Aviation Industry Corp of China's Xi'an Flight Automatic Control Research Institute.
"The plane will make its maiden flight in early October if preparation work proceeds well. Once its flight tests are finished, it will become the world's first large transport drone that is ready for commercial operations," he told China Daily in an exclusive interview on the sidelines of a civilian-military integration development expo, a weeklong event that concludes on Friday.
The refit was done by designers and engineers from several domestic institutes such as the Institute of Engineering Thermophysics of the Chinese Academy of Sciences and the AVIC Xi'an institute. The work is being done for SF Express, the second largest courier service in China after State-owned China Post.
The cargo drone first will be used for technological demonstrations and the civil aviation authorities' certification process and then will be put into commercial operation, according to the AVIC Xi'an institute.
International giants such as Amazon.com and DHL Express have begun to deploy drones for delivery service on a small scale and are continuing to develop new models. However, the drones in service or under development are all small and could not compete with the large Chinese drone in speed and carrying capacity, Chen said.
"The reason we lead in this field is that China is leading in online commerce and thus has a bigger demand for such drones than others."
Engineers removed the pilot's instruments in the P-750's cockpit and installed ground-control and automated flight devices, which are the most important apparatus on an unmanned plane, he said. Other institutes 'engineers rearranged the cabin and mounted other equipment on the aircraft.
After the modification, the plane has a maximum takeoff weight of 3.4 metric tons, a carrying capacity of 1 ton and a flight range of more than 2,000 kilometers, according to the designer.
Chen said that compared with manned cargo planes, a freight drone's operational costs will be about 30 percent less. It will be used for short-haul deliveries of time-sensitive goods such as fresh food and medical supplies.
"Next, we will focus on how to improve the drone's safety, reliability and intelligence. Future models will also be based on utility aircraft with a takeoff weight of 3 to 5 tons and will likely be capable of conducting an automated takeoff, cruising flight and landing with no manual manipulation," he said.
"The project team is in talks with the Civil Aviation Administration and other related authorities on issues of policy and airworthiness certification. The administration is open to the service of cargo drones."
SF Express said it owns an aircraft fleet of 40 Boeing cargo jets and has rented 15 planes from leasing firms. The company plans to expand the number of its own cargo planes to 100 by 2021.
Wang Yanan, editor-in-chief of Aerospace Knowledge magazine, said there is no large transport drone now available in the market and regional freight transportation in China relies on trucks and ships because the air transport is restrained by high costs, strict airspace controls and a shortage of pilots.
"Each manned cargo plane requires an average of 3 million yuan ($456,000) each year for its crew. Meanwhile, there has been a personnel gap of at least 10,000 aviators in the domestic market, which hugely contributes to the slack growth of cargo air transport," he said. "Therefore, unmanned cargo aircraft will be a reasonable solution for couriers to expand their network and boost their efficiency."