Leaders of Germany and France together open 69th Frankfurt Book Fair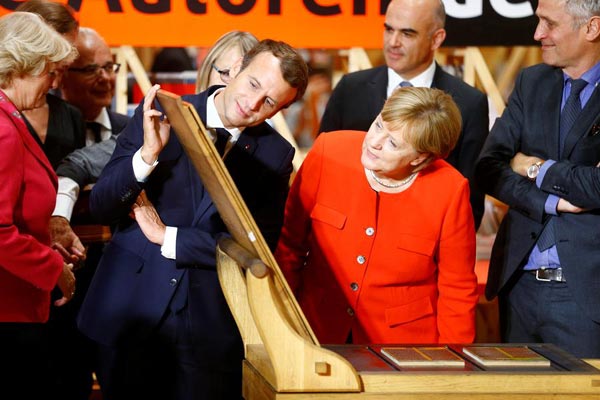 German Chancellor Merkel and French President Macron visit french pavilon at the Frankfurt Book Fair in Frankfurt, the world's largest book fair which runs from October 11 to October 15 and features the literature of France as its guest of honour, in Frankfurt, Germany, October 10, 2017. [Photo/Agencies]
FRANKFURT - German Chancellor Angela Merkel and French President Emmanuel Macron together opened the 69th Frankfurt Book Fair Tuesday evening.
With around 200 French authors coming to Frankfurt, France is this year's guest of honour at the international publishing industry's biggest trade fair, where over 7,300 exhibitors from 102 countries and regions as well as around 278,000 visitors are expected.
Addressing the opening ceremony, Merkel and Macron underlined the close cultural connection of both countries -- despite controversies.
Both countries saw themselves united in a thoroughly controversial but always rich interflow in culture, said the German chancellor, whose party just won the parliamentary election in September, which made her most likely to stay.
"Authors can be creators of ideas and bridge builders," Merkel said, emphasizing the solidarity and friendship between the two countries and the importance of the bilateral cooperation in and for Europe.
It was widely anticipated that the French president would make use of his visit to Frankfurt to speak about the future of Europe, after he had presented in September his receipt for Europe amid mounting populism, calling for closer ties to build joint defense force, common fiscal policy and coordinate efforts to tackle migration crisis and climate change.
"We must not isolate ourselves, in order to protect our values." Macron said in Frankfurt.
Regarding the fair's motto "Frankfurt in French", he spoke highly of the power of diversity in culture and languages, saying that the identity of the language lives amid the confrontation with other languages, "diversity is wealth".
The opening of Frankfurt Book Fair by Merkel and Macron was symbol of close connection between the two countries and their commitment to a common and strong Europe, said the fair's director Juergen Boos.
Over 4,000 events are going to take place during this year's book fair, which will opens its door to professional visitors from Wednesday to Sunday. On its last two days, anyone interested can visit the book fair.