Austrians go to the polls in parliamentary election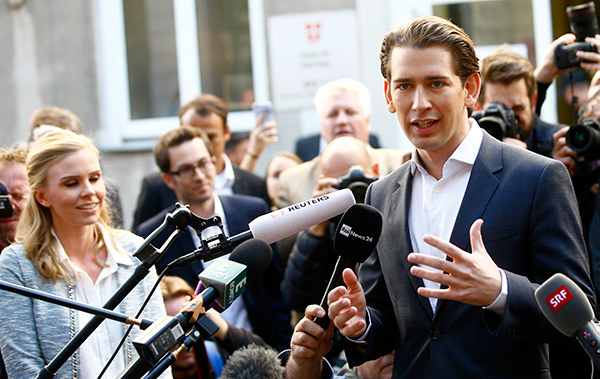 Top candidate of Peoples Party (OeVP) and Foreign Minister Sebastian Kurz talks with journalist after leaving a polling station in Vienna, Austria October 15, 2017. [Photo/Agencies]
VIENNA - Some 6.4 million Austrian voters began heading to over 10,000 polling booths on Sunday to elect the members of the National Council -- the lower house of the parliament.
Almost 900,000 voters asked for absentee ballots, which give voters the option of either sending their vote card in via post, handing it in person ahead of the election, or voting on the election day at any polling booth in the country.
The absentee votes will not be counted at the close of polling booths early Sunday evening, which means any close results may not be decided until a final result comes out later in the week.
Going by recent polling trends, the center-right People's Party headed by Foreign Minister Sebastian Kurz has got a good lead in most polls, while the Social Democrats and far-right Freedom Party could see a close finish for the second.
The minor parties including the Greens, NEOS, and Peter Pilz, independent candidate and former member of the Greens Party, were also locked in tight competition attempting to clear the four-percent hurdle needed to gain representation in parliament.
Austrian Chancellor Christian Kern was among the first party leaders to cast his vote in the election, expressing optimism that his Social Democrats would perform well.
"We are anticipating extended celebrations," he said, adding that he would keep watching the results of the election on television until the close of polls.
Prior to Kern's vote in the morning, the Greens head Ulrike Lunacek and NEOS head Matthis Strolz were the first leaders to officially cast their votes, both of whom were expecting a good result.
Sunday's legislative election has been seen as another important test for the right-wing wave amid a migration crisis in Europe after the German elections.