Austrian ski manufacturers expect massive new growth opportunities
Rising Chinese interest in winter sports a boon amid slowing European market demand
The Austrian ski-manufacturing industry sees large potential for growth in the Chinese market ahead of the 2022 Winter Olympics in Beijing.
In a report from Krone's online edition, it was noted that the Austrian ski-manufacturing industry has seen a major boom in interest from Chinese investors.
This has been seen across major manufacturers such as Fischer, Atomic, Blizzard and Head, said spokesman for the Austrian ski industry and Fischer Sports CEO Franz Foettinger.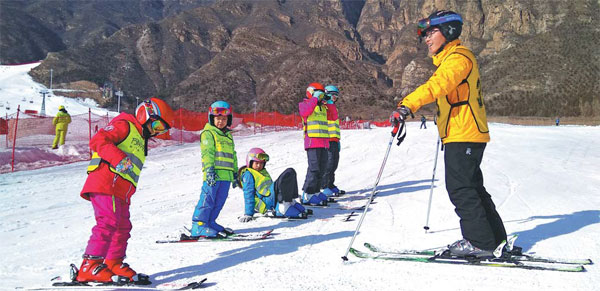 Children learn to ski at a resort in Yanqing district, Beijing. The Beijing 2022 Winter Olympics are expected to increase Chinese people's interest in snow sports.  Provided to China Daily
He said investors are seeking to bring Austrian know-how in the industry to China, where about 300 million people are anticipated to actively take up the winter sport by 2022, up from only about 5 million last year.
Since Beijing and its neighboring city, Zhangjiakou in Hebei province, won the right in 2015 to host the 2022 Winter Olympics, China has established a national campaign to encourage 300 million people to participate in winter sports.
In November 2016, the General Administration of Sport of China released plans to construct winter sports infrastructure and popularize winter sports, calling for at least 650 skating rinks and 800 ski resorts to be built across the country by 2022. The aim is for the winter sports industry to be valued at 1 trillion yuan ($145 billion) by 2025.
Zhan Weiping, vice-chairman of the Austria-China Friendship Association, said the Beijing 2022 Winter Olympics could bring more business opportunities to Austrian companies.
With its long tradition of winter sports, Austria was one of the first countries to develop ski resorts, winter sports technologies and an overall winter sports industry. Zhan said more Austrian winter sports companies have now become very interested in China's market.
"Some of them have already entrusted me to bring their projects to China. They are looking forward to working with Chinese investors and distributors, and are considering establishing factories in China," Zhan said.
He believes Austria and China can take advantage of each other's strengths, as Austrian companies can bring technology, brands and management models, while their Chinese partners can offer capital and local support.
The Beijing 2022 Winter Olympics could be an extremely effective introduction for many people to snow sports, said Peter Schott, general manager of international trade at Head International, a leading global manufacturer and marketer of premium sports equipment and apparel.
The Advantage Austria Ski Race, after being held in China for eight years, for the first time was won by a Chinese racer on Feb 18 at Zhangjiakou's Genting Secret Garden Resort, with Liu Ji crossing the finish line in 51.75 seconds, ahead of an Austrian racer.
The race, which is regarded as a networking platform for the Austrian-Chinese winter sports community, attracted 110 racers from China and all over the world.
"Actually, now we have more Chinese participants than Austrians, which is fantastic," said Martin Glatz, head of Advantage Austria Beijing and commercial counselor at the Austrian embassy. He said this reflected the growth of winter sports in China.
A bright future
While it sees no exciting growth in the well-established winter sports market in Europe, Schott said it is realistic to expect that China will catch up and become the biggest ski market in the world.
In addition, Schott said his company has witnessed China's winter sports market becoming more competitive, as everyone, both big and small companies, is trying to tap the potential.
To tap the market, Head has partnered with Nanjing BC Sports Products, aiming to popularize winter sports, Schott said.
While Foettinger himself turned down a China-based offer to buy his company, he said he can still see business opportunities in the country, where many skis are currently imported from Japan.
In addition, Foettinger noted a need for Austrian ski instructors at the many new ski resorts in China.
Oliver Suter of Salzburg-based company Axess said Austrian companies could also be involved in the construction of such resorts. His company has received three large contracts for its chip card and access systems for ski slopes, and the ski industry has reported further demand for lifts and snow cannons.
Xinhua-China Daily
(China Daily 05/14/2017 page37)
Today's Top News
Editor's picks
Most Viewed