Merkel's party loses election in German state of Lower Saxony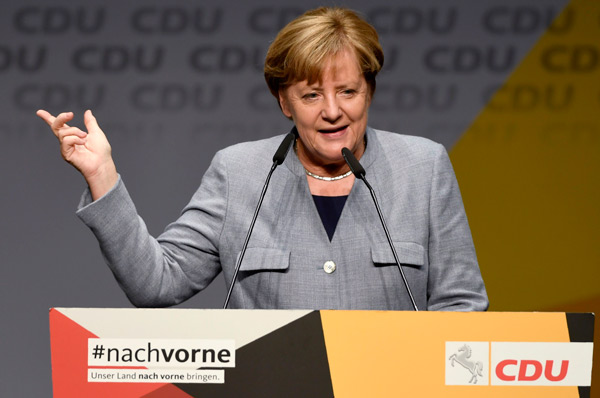 German Chancellor Angela Merkel delivers her speech during a Lower Saxony's Christian Democratic Union's (CDU) regional election campaign rally in Stade, Germany, Oct 13, 2017. [Photo/Xinhua]
BERLIN - German Chancellor Angela Merkel's Christian Democratic Union (CDU) was beaten by the Social Democratic Party (SPD) in the state election of Lower Saxony on Sunday, complicating her efforts in government coalition talks.
The SPD garnered 37.1 percent of the total votes, followed by CDU at 34.4 percent, according preliminary results broadcasted by ARD and ZDF.
The far-right populist Alternative fuer Deutschland (AfD) gained 5.9 percent of the votes, thus entering the 14th state parliaments in Germany.
The Greens made with 8.8 percent and the Free Democratic Party (FDP) with 7.2 percent, while the Left Party had only 4.6 percent of the vote and will again remain outside the state parliament due to the 5-percent-hurdle.
The Lower Saxony state election came three weeks later after the federal parliament election on Sept 24, in which Merkel's Union suffered a 8.5-percentage point loss compared to that of 2013, and the lowest votes since 1949, despite maintaining the strongest party in the Bundestag, or German Federal Parliament.
The AfD made an historic debut in the Bundestag and became the third strongest party in Germany, while the liberal and pro-business FDP returned the Bundestag after a failure in 2013.
The latest lose in Lower Saxony may further weaken Merkel's power and complicate her efforts for government coalition talks that are already facing an array of differences between three parties.
After the election in Lower Saxony, Merkel will focus on the negotiation for a new government with the FDP and the Greens, an alliance called "Jamaica Coalition" for their colors similar to that of the flag of the Caribbean country, but it has never appeared at the federal level.
The result of the Sept 24 federal parliament made the alliance become the only possibility after the SPD announced that it would not form a new coalition with the Union again and all five parties ruled out possibility of cooperating with the AfD.
After the CDU and its Bavarian sister Christian Social Union (CSU) agreed on the ceiling of the numbers of refugees Germany accepts every year, Merkel announced last Monday that the exploratory talks for the "Jamaica Coalition" would start on Wednesday.
However, the three parties are different from each other in policies concerning immigration, climate change, the European Union and others.