Coral transplant raises survival hopes
SYDNEY - Scientists in Australia have successfully bred baby coral on the Great Barrier Reef, offering hope the World Heritage site can survive in the face of increasing environmental threats.
The Southern Cross University project raises the prospect of restoring damaged coral populations.
Coral eggs and sperm were collected from Heron Island's reef during last November's coral spawning to produce more than a million larvae.
The larvae were returned to the wild and placed on to reef patches in underwater mesh tents, with 100 surviving and growing successfully.
These methods have brought similar success in the Philippines, where the use of explosives to kill schools of fish has destroyed coral.
Peter Harrison, the project's lead researcher and the man who discovered mass coral spawning in the 1980s, described the "results as very promising."
"The success of this new research not only applies to the Great Barrier Reef, but has potential global significance," Harrison said on Monday.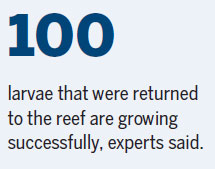 "It may be one of the answers to some of the problems in the Great Barrier Reef. It's a glimmer of hope."
The world's largest coral reef system lies off the coast of Queensland and supports a wide diversity of marine life, but in recent decades it has been threatened by the effects of climate change, water pollution and commercial fishing.
The reef has already been subject to several coral bleaching episodes attributed to climate change, when rises in atmospheric temperatures have been followed by increased sea surface temperatures.
Seasonal floodwaters bring runoff containing chemicals from mining operations, and agricultural fertilizers, herbicides and pesticides from coastal sugar cane and cattle farms.
In June this year, UNESCO expressed serious concern about the impact of coral bleaching on the Great Barrier Reef.
Anna Marsden, managing director of the Great Barrier Reef Foundation, said the results achieved by the Southern Cross team were an important step but should not deflect attention from the need to address climate change and its impact on the reef.
"There is much more to be done, but this is definitely a great leap forward for the reef, and for the restoration and repair of reefs worldwide," she said.
Xinhua