UK students impress judges
More than 100 talented young Britons took part in the final of the UK's only national Mandarin-speaking competition for students at the British Museum in London on Tuesday.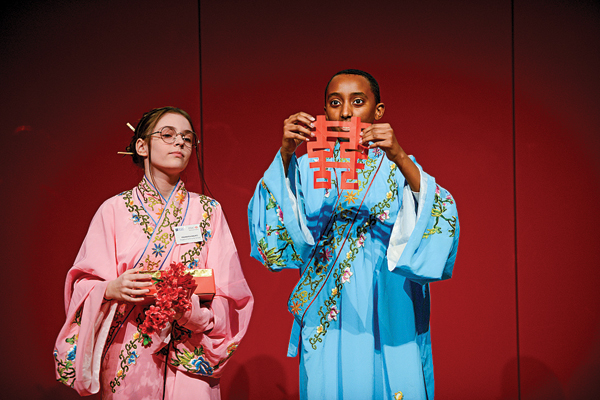 Colorfully dressed students on stage in the contest. Mark Hakansson / For China Daily 
Now in its 14th year, the HSBC and British Council Mandarin Speaking Competition aims to encourage interest in the Chinese language and China's culture. This year, students from at least 38 schools nationwide competed in either the Individual or Group Performance sections, vying to win a weeklong trip to Beijing.
In the end, James Hollingsworth from St Mary Magdalene Academy, Mary Oboh from Dartford Grammar School, and Kamran Sharifi, from Manchester Grammar School, nudged ahead of the competition, displaying outstanding language skills and snatching first prize ahead of entrants in the Beginners, Intermediates, and Advanced categories.
Students from Fortismere School impressed the judges with imaginative performances and costumes to win in the Group Performance category.
Speaking at the competition, School Standards Minister Nick Gibb said: "Studying Mandarin Chinese is both personally enriching for students and a useful means of boosting future career prospects in our globally competitive economy."
Last September, the British government launched a 10 million pound ($12.96 million) Mandarin Excellence Programme.
The program will see at least 5,000 young people in England get on track to achieve a high level of fluency in Mandarin Chinese by 2020, according to recent research commissioned by the Department for Education.
With the uptake of Mandarin in UK schools growing, the number of entrants sitting Mandarin exams as part of the General Certificate of Secondary Education increased by 75 percent during the past five years, to nearly 3,500.
Mark Herbert, head of schools programs at the British Council, said: "Mandarin Chinese matters — both to the UK's future prosperity and to the personal career opportunities of those who speak it. Without more people in our workforce who can understand and communicate effectively with one of the world's biggest economies, there's a real risk that the UK will struggle to remain competitive on the world stage."
Since 2003, more than 2,500 young people have entered the speaking competition, helping to inspire hundreds of others to further their language studies.